The Three Gorges Project has significantly improved the cargo delivery capacity of the Yangtze River, an official said Tuesday.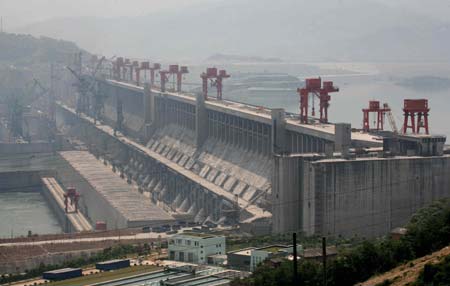 A general view shows the Three Gorges Dam on the Yangtze river in Yichang in central China's Hubei province May 17, 2006. [Agencies]
In 2006, some 50 million tons of cargo were transported through the dam, nearly tripling the maximum annual amount before the dam started operation, said Wang Xiaofeng, director of the office of the Three Gorges Project Committee of the State Council.
Nineteen power generating units, each with a capacity of 700,000 kilowatts, have now been put into operation to make a total installed capacity of 13.3 million kw.
So far, the units have generated more than 200 billion kw of electricity, said Wang in Beijing, adding this had helped guarantee power supply in southern, eastern and central China.
Aside from improving shipping conditions and ensuring power supply, the project had also played an important role in flood controls on the Yangtze and in protecting the area's ecological environment, Wang said.
"We are going to be able to weather the worst flooding in 1,000 years."
Upon completion, the total project will comprise the dam, a five-tier ship lock and a 660-kilometer-long reservoir.
"The Three Gorges project has become a brand both at home and abroad," said Li Yong'an, general manager of the China Yangtze River Three Gorges Project Development Corporation. "Several countries are now seeking cooperation with us."
"We are investigating the feasibility of those proposed projects and will finally reach a scientific conclusion," he said without elaborating.
At Tuesday's press conference, Three Gorges officials said the government had fully acknowledged the disadvantages of the massive dam project long before its construction started in the early 1990s and would continue to devote resources to overcoming such disadvantages.