China and France Monday signed nearly $30-billion worth of trade deals on big-ticket items ranging from aircraft to nuclear reactors.
President Hu Jintao and his French counterpart Nicolas Sarkozy, who is on a three-day state visit, presided over the signing of 20-odd agreements following talks at the Great Hall of the People.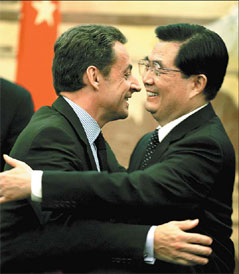 President Hu Jintao greets his French counterpart Nicolas Sarkozy at the Great Hall of the People in Beijing, November 26, 2007.  [Newsphoto/Wu Zhiyi]
The Foreign Ministry said the quantum of purchases showed the country is making strong efforts to reduce its trade surplus with France.
"China wants balanced trade with its partners and the purchases of the airplanes is a sign of how it is striving for that," ministry spokesman Liu Jianchao told reporters at a briefing.
In the single biggest agreement worth $17.4 billion, China committed to buying 160 commercial passenger jets from European plane maker Airbus, which is headquartered in France. The order includes 110 A320 jets and 50 of the slightly larger A330 planes, Airbus officials said.
In another major deal, France's state-owned Areva finalized a $11.9 billion contract to sell two nuclear reactors to China Guangdong Nuclear Power Corp in one of the company's largest contracts ever.
French officials speaking on condition of anonymity said all contracts - including those for jets and reactors - signed Monday added up to about $29.62 billion.
After "frank and friendly" talks, Hu and Sarkozy reached consensus on a wide range of issues and released a joint declaration on climate change, the first of its kind between China and another country.
In the document, the two countries reiterate their commitment to the aims, principles and provisions of the UN Framework Convention on Climate Change and the Kyoto Protocol.
The two sides will establish a bilateral consultation mechanism and hold talks once a year to strengthen dialogue on climate change.
They will cooperate in major technologies for energy saving, renewable energy, hydrogen energy and fuel batteries, clean coal and nuclear power for civilian use.
During the talks, Hu proposed greater cooperation on nuclear energy, aviation and aerospace, railways, finance, telecommunications, environmental protection and agriculture.
As Sarkozy's visit came ahead of the 10th China-EU summit, which will be held tomorrow in Beijing, Hu said he hopes France will continue to play a positive role in the European Union and make a greater contribution in pushing forward the Sino-EU comprehensive strategic partnership.
Sarkozy said he appreciates China's open attitude toward trade issues between the two countries, and pledged to continue the dialogue and forge an even closer partnership in all fields.
The two leaders also discussed a range of international affairs including the Pyongyang and Teheran nuclear issues, the situation in Myanmar and the peace process in the Darfur region of Sudan.
The French president accepted Hu's invitation to attend the opening ceremony of the Beijing Olympic Games next year.
Sarkozy is scheduled to visit Shanghai today before ending his China trip.