SHANGHAI: A group of scientists set sail from Shanghai Monday morning, marking the start of the country's 24th scientific expedition to Antarctica.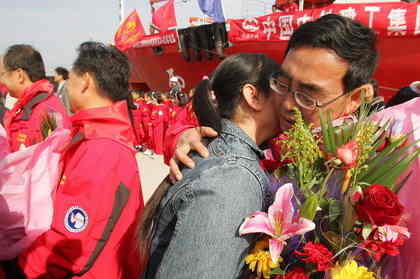 A scientist of China's expedition team to Antarctica hugs his relative before boarding the ship Xuelong, or Snow Dragon at Waigaoqiao Dock in Shanghai November 12, 2007. [Xinhua]
The ship Xuelong, or Snow Dragon, carrying 91 members of what will eventually be a 188-strong expedition team and 40 crew members, left Waigaoqiao Dock at about 10 am. The rest of the explorers will travel to Antarctica by air.
"The expedition will last for more than five months. We expect to be back home on April 18," Shen Quan, the ship's captain, said.
"It's the largest scientific expedition team China has sent to Antarctica. The expedition will lay the foundations for China's in-depth exploration of the Antarctic," Chen Lianzeng, deputy director of the State Oceanic Administration, said.
The expedition team will pick the final site of China's third scientific research station at the South Pole, an observatory with seven telescopes and one acoustic radar at Dome A, Chen said. At 4,093 m above sea level, Dome A is the highest point on the continent.
"We are prepared to build a third station, and construction will start once the site is finalized. The whole project is expected to be completed by 2010," Xu Xiaxing, a veteran explorer on his eighth trip to the continent, said.
They will carry out an inspection of Dome A and draw the first topographic map of the 450 km surrounding the peak. A model of an ancient Chinese compass, one of the country's four great inventions, will be brought to Dome A for permanent display.
This expedition marks the first time China has participated in the International Polar Year program.
It also marks the start of reconstruction for two existing Chinese stations in the Antarctic, Changcheng and Zhongshan.
The ship will stop in Chejudao in the Republic of Korea and Frementle in Australia for supplies before it arrives at the Zhongshan Station.
Xinhua contributed to the story