China is highly concerned about the situation in Pakistan, and believes the country has the ability to solve its own issues, said Foreign Ministry spokesman Liu Jianchao Tuesday.
"Pakistan is one of the important neighbouring countries of China. We believe the Pakistani government and people have the ability to solve their own problems and hope Pakistan could maintain stability and development," Liu told a regular press conference.
Pakistani President Pervez Musharraf on November 3 declared a state of emergency in the country and issued a provisional constitutional order (PCO), citing the ascendancy in the activities of extremists and incidents of terrorist attacks, and the abuse of the judiciary in the country.
No change of date for election
Pakistani Prime Minister Shaukat Aziz said Monday that the general elections would be held according to the schedule.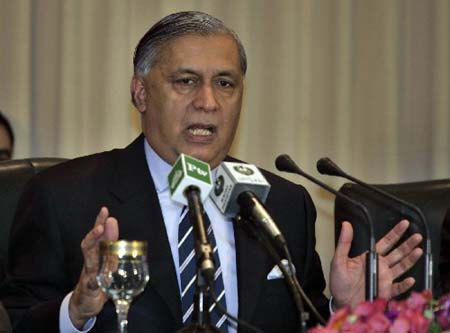 Pakistani Prime Minister Shaukat Aziz gesture during a news conference at prime minister house in Islamabad Nov. 4, 2007. [Agencies] 
Asked whether elections would be held in January as stated by him previously, Aziz told to a group of journalists in Islamabad Monday that so far there was no change in the schedule.
He said that it was the desire of the government that the democratic process would be consolidated and that no hindrance would occur in the process of general elections.
He said there was a need to take legal and constitutional cases to their logical conclusion. The election process would gain momentum when the Supreme Court fixed the date for hearing such cases, he added.
Aziz said that the national assembly was to meet in Islamabad Wednesday afternoon, adding that the house would adopt resolutions on the prevailing situation and debate the issues involved.
He said the federal cabinet meeting would be held Tuesday in which the situation prevailing in the country and other national issues would be discussed.
Aziz said the life remained normal throughout the country. He said that the new judges of the superior courts performed their duties and that four judges including Chief Justice of the Federal Shariat Court took oath under the Provisional Constitutional Order (PCO).
Responding to a question, Aziz said that there would be no censorship on the electronic media and the press. However, he said, they had to act within the parameters of the code of conducts prepared in consultation with all the stakeholders. He said that the media should keep the national interest supreme that will bring betterment to society.