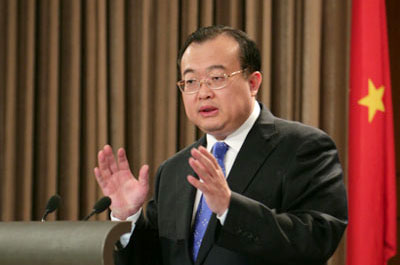 Liu Jianchao, spokesman of the Chinese Foreign Ministry, speaks at a press conference in Beijing on October 9, 2007. [fmprc.gov.cn]
China will certainly play an "important and constructive" role in the international peace negotiations aimed at putting a formal end to the Korean War, according to the Foreign Ministry.
"Being an influential nation in Northeast Asia and a key signatory to the ceasefire on the Korean Peninsula, China will certainly play an important and constructive role in the issues concerning the peninsula and Northeast Asian relations," said Foreign Ministry spokesman Liu Jianchao Tuesday.
He told a regular press briefing that the establishment of a peace mechanism on the Korean Peninsula was conducive to the interest of its people as well as regional peace, stability and development.
"And China will play an active role in such a process," he pledged.
China, the United States and the Democratic People's Republic of Korea (DPRK) were signatories to the 1953 armistice that ended fighting in the Korean War, but there has never been a formal peace treaty and the two Koreas remain officially at war.
However the leaders of Pyongyang and Seoul agreed at a landmark summit last week that "three or four nations" should meet to replace the armistice with a permanent peace agreement.
The accord has raised questions about who should take part in such a meeting, as the war involved four major parties - the DPRK, the Republic of Korea (ROK), China and the United States, which led UN forces.
Liu's remarks dismissed speculation that China will not get involved in the international peace talks to achieve a permanent peace on the peninsula.
Cheon Ho-seon, the ROK presidential spokesman also said earlier that the effort to sign a peace treaty would require China's participation, along with other parties.
Asked when the peace talks could take place, Liu said negotiations among all the parties through diplomatic channels would be needed before detailed arrangements could be made.
Prudent action urged
Liu also said Tuesday that China is closely watching the developments in Myanmar.
Responding to a draft statement on Myanmar circulated by western powers to the Security Council, Liu said any action adopted by the Security Council should be extremely prudent and responsible.
"Sanctions or pressure will not be conducive to solving the issue in Myanmar," he said.
Liu said the situation in Myanmar has gradually calmed down, which is the result of the joint efforts made by all the parties in Myanmar as well as the international community.
He said China encourages ASEAN member countries and other nations to be a positive influence and would work together with the international community to play a constructive role in Myanmar's long-term stability and development.