BEIJING - A new coffee shop opened last week inside the Palace Museum, located exactly at the same place where a controversial Starbucks coffee shop had situated for seven years.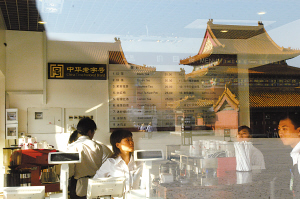 A new coffee shop in the Palace Museum. [the Beijing News] 
With wooden tables, wooden chairs and pictures featuring Chinese culture, the "Forbidden City Cafe" serves not only coffee, but also traditional Chinese beverage such as tea.
"Different from the Starbucks coffee shop, the Palace Museum is the managerial authority of the cafe," Beijing Daily quoted Li Wenru, deputy curator of the Forbidden City, as saying.
In a separate interview with the Beijing Youth Daily, the deputy curator emphasized that the "Forbidden City Cafe" is only part of a store which mainly sells souvenirs to tourists.
"We want to provide tourists with a package of products relating to imperial palace and Chinese culture," Li said.
In 2000, the Seattle-based Starbucks Corp. opened its outlet in the Palace Museum, the former imperial palace, at the heart of Beijing.
The outlet, however, closed its door in July this year after facing years of opposition as some Chinese think the American coffee shop poses a challenge to traditional Chinese culture.