SHANGHAI -- A topping-out ceremony for the world's third-tallest building -- the 101-storey, 492-metre Shanghai World Financial Center -- was held on Friday morning after the last beam was laid to mark the completion of construction.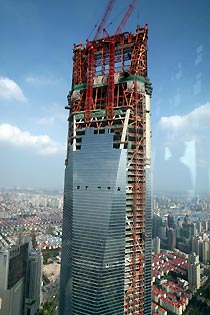 The photo taken on August 27 shows the Shanghai World Financial Center under construction. [Xinhua]
The building would cost a total of 125 billion Japanese yen, or 8.17 billion RMB, according to Minoru Mori, president of Mori Building Co. Ltd, a major investor in the project.
The skyscraper, which usurps the nearby 421-meter Jinmao Tower as the tallest on the Chinese mainland, will be finished and put into commercial use next spring.
The most distinctive feature in the building's design is a trapezoidal hole at the top. There will be an observation deck on the 100th floor, 472 meters up, making it the world's highest public observation platform.
The tower will house 70 floors of office space designed to accommodate 12,000 people, with a hotel, restaurants, conference centers and shopping malls.
The rental has been initially set at three U.S. dollars per square meter a day, the highest rent in the city.
Japan's Mizuho Corporate Bank and Sumitomo Mitsui Banking Corporation have signed leases. Other potential tenants include JPMorgan and Lehman Brothers.
Construction began in 1997, but was soon suspended due to the Asian financial crisis. The project was resumed in 2004.
Burj Dubai, a skyscraper in the United Arab Emirates (UAE), is the world's tallest free-standing structure at a height of 555.3 meters, surpassing the 508-meter Taipei 101 in Taiwan.