DALIAN: Emerging nations, regions, industries, and companies that are likely to shape the world in coming decades will come under the spotlight during the inaugural "Summer Davos", which starts Thursday.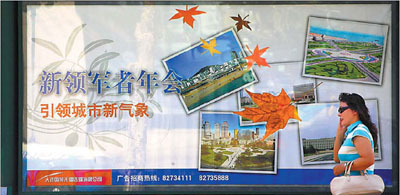 A woman  walks past an advertisement promoting the Inaugural Annual Meeting of the New Champions by the World Economic Forum (WEF) in Dalian. The meeting, set to open Thursday, is expected to lure more than 1,700 participants from over 90 countries and regions. [Xinhua]
Some of the world's top academics, business and political leaders - about 1,700 participants from over 90 countries and regions flew in yesterday to this scenic coastal city in Northeastern China, for the three-day Inaugural Annual Meeting of the New Champions by the World Economic Forum (WEF).
Klaus Schwab, founder and executive chairman of WEF, said at a meeting with Vice-Premier Wu Yi on Wednesday in St Petersburg that both China and WEF shared the idea of harmony.
China, one of the world's most dynamic economies, has focused much of its attention on promoting harmony domestically and internationally.
In the meantime, WEF has also been pushing for harmony and balance between economic growth, social causes, and the natural environment.
So, when Premier Wen Jiabao met Schwab, who has been cooperating with China for more than a quarter of a century, in Beijing two years ago, the two men immediately found a common interest - that the Summer Davos should be held in China.
Premier Wen is expected to deliver a keynote speech late this afternoon, as a sign of Chinese government's support for closer international exchanges.
Toyoomi Nagata, chairperson of the board of trustees with the Ritsumeikan Trust in Japan, said China should have more international cooperation with the world and the world should also try to discover more about China through the Summer Davos.
"China is a big rising power, but both China and other countries should cooperate with each other," Nagata, also a top American historian in Japan, said.
Many of the participants, being their first time to Dalian or China, have also expressed hopes of gaining a better understanding of China.
Zira Maigadi, chief executive officer and managing director of African Petroleum Plc in Nigeria, said: "China is an emerging economy and is actively involved in several projects in my country. It is a global village and I am sure that we have a lot to learn from China".
Joerg Maehler, managing director and CEO of Tuv Rheinland China Group, said he had been to Dalian three times, but the opportunity to meet and network with people from different parts of the world on topics like industry champions and emerging trends, attracted him.
Local Chinese companies are also using the platform to seek international cooperation.
Chi Baozhang, general manager of Sinorail Bohai Train Ferry Co Ltd, said: "We are a new company and hope to be incorporated into the global trains ferry systems soon, learning the latest concepts and advanced management in the world."