China's economic growth may face uncertainties in the coming months. Whatever those uncertainties are, analysts agree the economy will continue its rapid growth.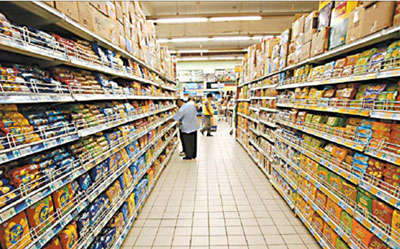 Customers shop for food at a Wumart store in Beijing. China's GDP increased 11.5 percent in the first six months of the year, with investment, inflation and lending maintaining strong growth. [Bloomberg news]
China's gross domestic product (GDP) increased 11.5 percent in the first six months of the year, with investment, inflation and lending maintaining strong growth.
Economic growth in the second half of 2006 was lower than the first half, and therefore year-on-year growth in this year's second half should be stronger, says Liang Hong, chief economist of Goldman Sachs (Asia) in Hong Kong.
The country's GDP growth may reach 12.6 percent for the second half, while the whole-year figure could be 12.3 percent, Liang says.
The authorities' tightening measures have been slower and softer than those in 2004, when China experienced a major economic expansion, she says. "This has made the economy grow faster by far."
Economic growth will remain strong in the third quarter, Liang says, but she is not sure the momentum will continue in the fourth quarter, since the severity of expected tightening measures remains unknown.
Liang says besides an interest rate hike, administrative measures will become the major tools of policymakers.
Decisive monetary tightening may take place in the very near term, and it will involve mostly administrative measures such as a more aggressive liquidity withdrawal by the central bank (possibly through larger or more frequent reserve requirement ratio hikes), stepped-up moral suasion on commercial banks to curb lending, and other administrative measures to curb investment demand, Liang says.
Externally, China has a favorable environment for its economic growth. The global economy is performing well, despite interruptions from subprime problems arising in the US.
"Global growth continues to do well, and this is a partial explanation as to why China's growth is so high," Bert Hofman, the World Bank's lead economist in China, says.
The central banks of some major economies have intervened to head off a potential financial crisis triggered by the US subprime mortgage lending woes.
But the possibility of a widespread crisis is slim, says Zhuang Jian of the Asian Development Bank (ADB) in China.
The International Monetary Fund recently raised its world economic growth forecast from 4.9 percent to 5.2 percent. It said the Chinese economy may grow by 11.2 percent.
"The world economy is also expected to grow solidly next year," Zhuang says. "It will constitute a strong back-up for demand for Chinese products."
China's GDP growth may hover around 11 percent, he said, as the expected tightening measures will take some time to take effect.
"I expect very harsh environment-related measures in the coming months," Zhuang says, warning that if China fails to reach its target on energy savings and emission cuts this year, it will be much harder for the country to meet its targets in the coming three years.
China has set in its development plan for the 2006-10 period that it should cut energy consumption per unit of GDP by 20 percent by 2010, or 4 percent each year, and reduce major pollutants by 10 percent by that time.
Consumer price increases are another challenge, say analysts.
China's consumer price index (CPI) hit 5.6 percent in July, pushing the January-July figure to 3.5 percent, well above the full-year target set by the central bank.
"Such a high CPI reading would likely re-intensify speculation about a potentially strong policy response," writes Wang Qing from Morgan Stanley Asia Pacific.
Statistics show the rise has mainly come from food price spikes.