In a major effort to restructure China's fledgling air flight industry, Beijing has given the final approval for the Shanghai-based China Eastern Airlines to sell a 24 percent stake to Singapore Airlines and the well-known Temasek Holdings.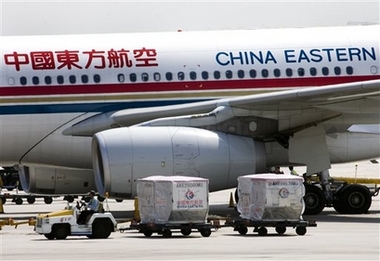 A carter drives past a China Eastern airliner parked at the Beijing International Airport in Beijing, China, Wednesday, Aug. 29, 2007. [AP] 
China Eastern officials said on Sunday at a press conference that Sinapore Airlines will pay $602 million for a 15.7 percent stake, while Tesasek, the Singaporean government's investment arm, will pay $321 million for an 8.3 percent stake in China Eastern.
Analysts said the team-up of the two airlines will bring much-wanted cash and managerial expertise to China Eastern. The $923 million deal has been long anticipated with trading in the two airlines' shares suspended since late May.
China Eastern is China's third-biggest carrier. The company reported net losses in 2005 and 2006, because of suffering from soaring jet fuel prices and intensifying competition.
"One thing for sure is that joining with Singapore Airlines will bring a lot of capital to China Eastern," the Associated Press quoted Ma Yin, an analyst with Haitong Securities, as saying on Sunday. "But this is no guarantee that China Eastern will overcome its debt problems," she said.
Like other major Chinese companies, airlines are seeking strategic investors to help build their cash bases and upgrade services.
The flagship Air China, headquartered in Beijing, has cross-shareholdings and cooperative arrangements with Hong Kong carrier Cathay Pacific Airways. Speculation over more merger activity stepped up last week after Air China said the government was considering a restructuring of the civil aviation industry to boost efficiency.
With air traffic demand expected to grow 9 percent annually, China's airlines are seeing strong increases in demand and revenue. China Eastern reported a 12 percent rise in passenger traffic in the January-June period to 26.5 million.
The Singapore carrier has seen disappointing results from its previous strategic investments. It held a 25 percent stake in Air New Zealand but lost millions of dollars when the New Zealand carrier came close to collapse in 2001. It has since sold off that stake, the Associated Press reported.