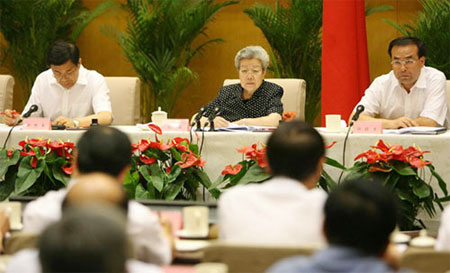 Vice-Premier Wu Yi (C) speaks at a national teleconference concerning product quality in Beijing on August 23, 2007. [Xinhua] 
The government Wednesday declared a four-month "special war" against poor product quality and supervision after a spate of safety concerns over Chinese products worldwide.
Eight categories of products are involved: Pork, drugs, agricultural products, processed food, food in the catering sector, import and export products, and other products related to public health such as toys and electric wires.
Twenty detailed targets to be met by the year-end have been set.
For example, it is mandatory that all food producers are licensed; all pigs be slaughtered at designated places; all agricultural product wholesale markets in cities be monitored; all raw material bases for export products be inspected; and all restaurants and dining halls check safety certification when they buy raw materials.
There are some forbidden zones as well. For instance, it is banned to use five types of strong pesticide in agricultural products, to sell poultry that die of disease, or to add harmful additives to food.
"This is a special war to protect the safety and interests of the general public, as well as a war to safeguard the made-in-China label and the country's image," Vice-Premier Wu Yi said during a national teleconference yesterday in Beijing.
It was the first meeting on quality control Wu chaired after being appointed head of a Cabinet-level panel on food safety and quality control last week.
She acknowledged that despite progress made in the past few years, the country did have some "deep-rooted" problems regarding food and product quality.
They include a large number of small food plants with poor equipment and management, excessive amount of drug residues, and the use of fake materials. Poor supervision and overlapping enforcement powers have to be addressed as well, according to Wu.
She said it was essential to establish and develop "two chains, one system and one network".
The chains refer to the supervision of the entire production process of industrial and food products; the system is a product recall and accountability system; the network refers to a comprehensive quality monitoring system in every corner of society.
"If successful, food safety and product quality in the country will be lifted to a new stage," Wu said.
She also stressed zero tolerance toward violators, including producers and vendors, and government officials who fail to perform their duty.
The campaign is the latest by the government to improve product quality.
In the past month, apart from setting up the Cabinet-level panel on food safety and product quality, it has drawn up a blacklist of illegal importers and exporters, issued a special regulation on better quality supervision, and released a White Paper on food safety.
Despite safety concerns, the country's fast-rising exports show that Chinese products are still popular, Assistant Minister of Commerce Wang Chao told a press conference yesterday.
In the first half of this year, China exported $546.7 billion worth of products, up 27.6 percent over the same period of last year.
"The growth shows that most importers, retailers and consumers have a fair and understanding attitude toward Chinese products," Wang said.