A senior Chinese trade official said on Thursday that the recent anti-dumping and anti-subsidy investigations launched by the United States against Chinese goods violate rules of the World Trade Organization (WTO).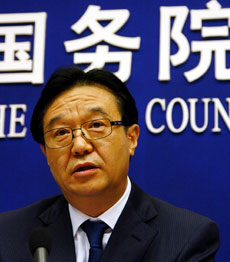 Gao Hucheng, vice minister of commerce, speaks on China-US trade issues at a press conference in Beijing August 23, 2007.  [Xinhua]
Addressing a press conference held by the State Council Information Office, Gao Hucheng, vice minister of commerce, said the US investigations and the measures that it might take against Chinese goods will lead to double taxation, which is banned by the WTO.
The US has launched five separate investigations into Chinese products, including art paper, steel pipe and tyres, since last November.
China has been the fastest growing export destination of the United States for five consecutive years, Chinese Vice Minister of Commerce Gao Hucheng said Thursday.
China is expected to overtake Japan as the third largest export market of the United States at the end of this year or early next year, he said.
China's foreign trade value reached US$1.17 trillion in the first seven months of 2007, a year-on-year increase of 24.4 percent, according to customs sources.
The European Union remained its largest partner with a trade value of US$190.1 billion, a growth of 28.5 percent over the same period of last year, followed by the United States with 167 billion dollars, up 17.5 percent, and Japan with US$130 billion, up 15.2 percent.