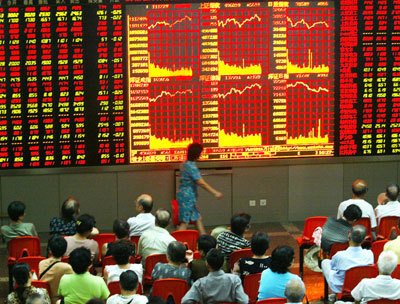 Investors monitor stock price movements at a brokerage in Shanghai August 21, 2007. [Xinhua]
China's main stock index surpassed the 5,000-point mark for the first time on Thursday, even after a couple of cooling measures by regulators.
The Shanghai Composite Index opened 22.76 points higher at 5,002.84 points, after three straight days of gains, including a 5.33 percent jump on Monday. 
Profit-taking then became heavy, exerting a downward pressure. However, the index managed to finish the session at 5,032.49 after reaching as high as 5,050.38.
That rally is especially spectacular given the recent domestic and global financial events.
Around the globe, major stock markets are suffering from the credit crunch arising from the sub-prime mortgage crisis in the United States.
In China, the central bank hiked interest rates on Wednesday to curb accelerating inflation and slow growth in money supply and credit.
In theory, an interest rate increase can affect the equity market in two ways. First, it will add to firms' borrowing costs, thus eroding their profits. It will also make bank deposits a more attractive alternative to investing in stocks.
Besides the rate hike, regulators also eased curbs on individuals investing overseas.
Chinese individuals can now invest in Hong Kong stocks directly after setting up a bank account with the Bank of China Ltd in Tianjin's Binhai economic zone, the State Administration of Foreign Exchange announced on Monday.
Analysts expect the loosening up of investment restrictions will drain funds away from mainland markets, albeit not too much.
The market may now consolidate around 5,000 points for the next few days or weeks, the analysts said, citing profit-taking and psychological resistance pressures.
So far this year, the Shanghai Composite Index has soared more than 80 percent since the end of 2006.