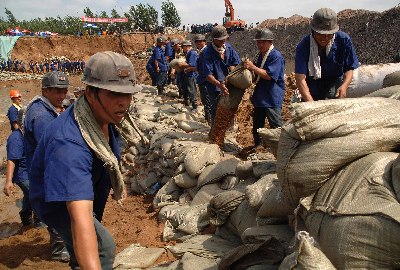 More than 600 workers repair and reinforce the Wenhe River levee in Xintai, East China's Shandong Province on August 21, 2007. Rescue work continued five days after water broke through a 65-meter wide breach in the levee, flooding the Huayuan and Minggong mines and trapping a total of 181 miners. [Xinhua]
Preliminary analysis of experts showed the coal mine flooding which has trapped 181 miners at two pits in East China's Shandong Province since Friday is a natural disaster, Minister of Civil Affairs Li Xueju said at a press conference on Wednesday.
"China currently has no compensation system for people killed and injured in natural disasters," Li said.
Related readings:


 Official: Cause of fatal mine flood still under investigation


 Water level at flooded coal mine falls sharply


 Mine rescue operation continues as hope fades


 172 missing after surface water floods coal mine in east China


 14 trapped in flooded coal mine
But the coal mine flooding occurred at Huayuan Mining Co Ltd. in the city of Xintai, and later at Minggong Mine was a case different from other natural disasters, because it took place in the course of production, he said.
The government and enterprises will provide compensation to the families of the coal mine flooding victims, he added.
Li revealed that the Ministry of Civil Affairs is considering to build a compensation system for the victims of natural disasters and is negotiating details with relevant departments.
Rescue workers are still working against time to search for the 181 miners trapped at the two collieries since Friday, despite dimming hopes of their survival five days after a swollen river flooded the pits.