CHELYABINSK -- Chinese President Hu Jintao and Russian President Vladimir Putin met twice in 24 hours to discuss bilateral relations and issues of common concern.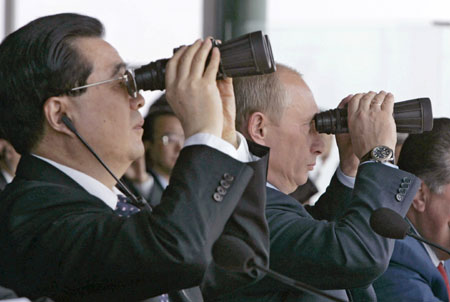 Chinese President Hu Jintao (L) and Russian President Vladimir Putin look through binoculars at the Chebarkul range before the Peace Mission 2007 counter-terrorism drill, sponsored by the Shanghai Cooperation Organization, in Chelyabinsk in Russia's Ural Mountains region, August 17, 2007. [Reuters]
In their Thursday meeting in Bishkek, capital of Kyrgyzstan, Hu called for timely coordination between China and Russia in their stance on bilateral ties and major regional and global issues.
On Friday, Hu met Putin again in Chelyabinsk, Russia, when they attended the final phase of the SCO's anti-terror military exercise.
"The work of the China-Russia commercial chamber of machinery and electric products should begin at an early date," Hu said.
Echoing Hu, Putin also called for giving full play to the role of the commercial chamber.
The two leaders proposed to strengthen cooperation between localities of the two countries, with Hu calling for starting the implementation of a local cooperation strategy as early as possible.
Putin expressed willingness to strengthen cooperation between the Far East region of Russia and China's northeastern region.
Hu called for strengthening cooperation on protecting and using trans-border water resources and hoped the two sides would step up talks for inking an agreement in this regard.