China plans to survey all of the moon's surface before eventually bringing bits of it back to Earth, state media reported Friday.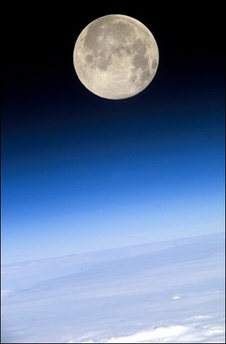 A full moon is visible in this 2005 view above the Earth's horizon. China plans to survey all of the moon's surface before eventually bringing bits of the planet back to Earth. [File]
"We would like to survey every inch of the moon's surface," Ouyang Ziyuan, chief scientist of the China's moon exploration project, was quoted as saying on the website of Chinese News Service.
Ouyang, speaking at a conference in southwestern China this week, said China's lunar exploration programme was divided into three phases: orbiting the moon, landing on the lunar surface and coming back to Earth with samples.
China hopes to send an unmanned spacecraft to the moon to survey it systematically and after that, will attempt to collect samples of it bring back to Earth, he said.
China's space agency chief, Sun Laiyan, said earlier this year that the country aimed to launch its first lunar orbiter in the second half of 2007.
"The moon probe project is the third milestone in China's space technology after satellite and manned spacecraft projects, and a first step for us in exploring deep space," the China National Space Administration head said.
The orbiter represented the first phase, with a moon rover to be used in the second phase scheduled for around 2012, reports said.
The plan for the third phase was for another rover to land on the lunar surface and collect samples before returning to Earth.
China would continue to research manned space missions, including a space walk and experiments to link passing spacecraft, he said.
In 2003 China successfully launched astronaut Yang Liwei into orbit, becoming the third country after the former Soviet Union and the United States to put a man in space.
Its space ambitions have continued to grow and China announced in March that it would launch a joint mission with Russia to Mars in 2009.