JINAN: A former chief legislator of a major city in East China and a policeman relative were sentenced to death yesterday after being found guilty of murdering the lawmaker's mistress.
Duan Yihe, former chairman of the Standing Committee of the People's Congress of Jinan, capital of Shandong Province, was sentenced at the Intermediate People's Court of Zibo.
Jinan policeman Chen Zhi, Duan's nephew-in-law, also faces execution for helping to murder Liu Haiping, Duan's mistress, with his accomplice, Chen Changbing, who got life imprisonment.
Duan, 61, had maintained an intimate relationship with Liu, a divorced woman 30 years his junior, since 2000, buying her a house and arranging jobs for many of her relatives, the court heard.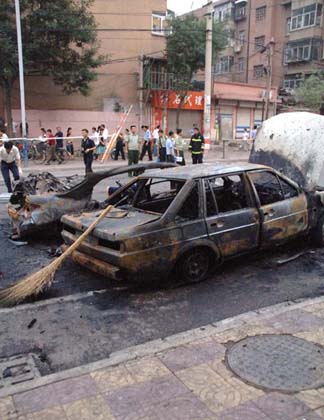 Chinese police officials inspect the site of a car explosion in Jinan, East China's Shandong Province, July 9, 2007.One woman in the car died, and the driver in a nearby taxi was injured.[Xinhua]
However, he later wanted to end the relationship after gradually growing tired of Liu, who repeatedly asked for money, demanded he divorce his wife to marry her and even threatened to report him to the prosecuting authorities.
Duan found it very hard to shake Liu off and planned with Chen to cause a traffic accident to make her "lose her ability to think", and he said it was Chen's error that killed Liu.
At about 5 pm on July 9, Chen Zhi and Chen Changbing, planted a homemade bomb in Liu's car and detonated it 30 minutes later by remote control as she was driving.
The explosion killed Liu at the scene and injured two passersby.
Duan was also convicted of taking bribes and asking for 1.69 million yuan ($223,000) in cash. He was also unable to account for a further 1.3-million yuan worth of assets, which were beyond his reasonable income level.
Duan was arrested on July 16. He was expelled from the Communist Party of China and removed from Party posts after the case was exposed.
The three convicted men said they would appeal.
A 55-article regulation issued by the State Council, which took effect on June 1, says officials who engage in extramarital sex can be demoted or fired.
China Daily-Xinhua
(China Daily 08/10/2007 page3)