One year after moving to her new apartment in Sanlin Expo Garden, Zhang Jinliu still couldn't forget the days when she carried a portable toilet down a lane so narrow she could only crabwalk through it.
Last April, Zhang, like hundreds of other families living beside the Huangpu River, moved from a shabby "pigeon cage" in Bailianjing to make way for the 2010 Shanghai World Expo.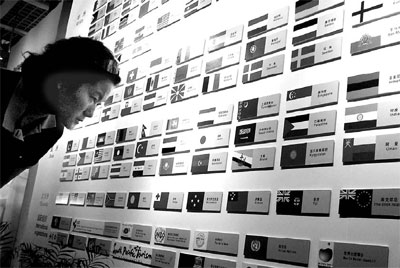 A visitor looks at flags of expo participants at an exhibition promoting the 2010 Shanghai World Expo yesterday in Shanghai. As of yesterday, a total of 158 countries and international organizations had confirmed participation in the event.        Gao Erqiang
"I once joked with my daughter that she'd better marry a rich man to help lift me out of the shanty house. I didn't expect my dream to come true because of the expo," said Zhang, 56, a former warehouse keeper in an iron and steel-making company.
Preparation for the 2010 Expo has resulted in the resettlement of around 18,000 residents and 270 enterprises. On ground that was once homes and factories which will soon be expo pavilions and other facilities .
The relocation project, the largest in Shanghai's history, helped tens of thousands of families move from the shanty-town, notorious for its worn-down houses and poor transportation.
According to Yang Xiong, vice-mayor of Shanghai, 99 percent of relocated residents have shown their support for the resettlement project.
Zhang's old house, where her husband's ancestors lived for 200 years, featured a leaking ceiling and no independent bathroom and kitchen. The house was so small that there was no room for a decent-sized dining table and the family was forced to eat on a cooking board for decades. "My parents never had a reunion dinner with us at my home," Zhang lamented.
When she moved to the house 20 years ago with her husband, Zhang was so disappointed by the neighborhood that she seldom left the house. "There are 62 lanes in the area and some are so narrow you can't walk in the regular way with a portable toilet in hand. You had to crabwalk. In the past 20 years I broke one portable toilet and four cuspidors," said Zhang, who now lives in a government-allocated two-bedroom flat in the Sanlin Expo Garden in southeast Shanghai.
For Zhang, the most embarrassing moments were taking showers barely hidden from neighbors' view.
"During summer nights, my daughter and I only dared to take a shower when all neighbors had gone to sleep. We turned off all the lights and bathed in a basin in a one-square-meter corner separated from the other part of the room with a black cloth," she said.
But Zhang said she still has many lasting memories from the building in which she spent most of her youth. And she had mixed feelings when relocation day finally came.
"I sat in the pickup next to the driver, with a big bouquet in my arms. I shed a lot of tears when the pickup began to move. The old buildings disappeared behind me slowly. Though the trip to my new apartment was very short, I felt it was the longest journey of my life," said the sobbing Zhang.
Today, Zhang and her husband visit the now-flattened area whenever they have time. "I will be the first to visit the expo when it opens in 2010," she said.
The move came easy for residents looking to improve their living conditions - most shanty-town dwellers could not normally afford Shanghai's skyrocketing property prices. But the move wasn't as welcome for owners of large compounds in the old residential area.
Bai Quanfeng, 64, used to own 17 rooms - one of the largest compounds in Bailianjing. She said when she closes her eyes she can still hear the laughter of her grandsons playing on the roof of the families' big houses.
Bai, who lived in the old houses for more than 40 years, had grown accustomed to living in the two-storey buildings with a spacious courtyard.
"I felt so much attachment to the old things, though as a residential committee cadre I had to persuade my family members and neighbors that we were moving to a better place," Bai said.
Government-led demolition in China is one of the most controversial issues as cities experience rapid urbanization. But the Shanghai expo relocation, the largest ever government-organized move, was met with hardly any resistance.
Residents were relocated to Sanlin and Pujiang Expo gardens in the city's suburbs.
"Everybody had an abacus clicking clearly in their heads," to see if the government's compensation is adequate, Bai said. "Most people are satisfied."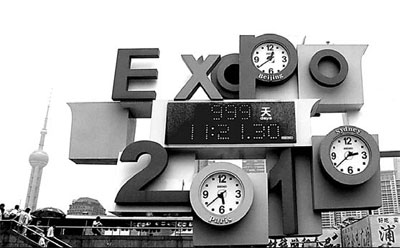 A clock counting down days until the expo near the Huangpu River in Shanghai yesterday.  Niu Yixin
Despite decades living in her splendid compound, Bai's breath was still taken away at the first sight of the new government-provided building in Sanlin.
Many others who were relocated from the shabby homes on the bank of the murky river shared Bai's feelings.
"The community and its buildings are gorgeous and extremely clean. The floor tile could be used as a mirror and the wall is as white as snow. I never imagined that," Bai said.
According to the compensation standards, Bai's family was allocated three apartments, including a three-bedroom and two two-bedroom flats on the 6th floor of a 17-storey high-rise, as well as a sum of cash she declined to reveal.
The community's buildings are new, well-arranged and near green spaces, though some residents complain facilities such as hospitals, banks and post offices are still lacking. The government has promised to build more schools, hospitals around the expo gardens.
But it's a nearby citizen recreational center that excites Bai, a dance lover, and her peers most. Rather than enjoy themselves under the sizzling sun, as they did in Bailianjing, they can now seek shelter and stay cool in an air-conditioned room.
"Life is going on and goes on better. My friends said to me: your world has totally changed," Bai said.