A bouquet of white flowers resting at the foot of a dormitory building in the Renmin University of China carries the grief of students mourning the precious life of one of their dear friends.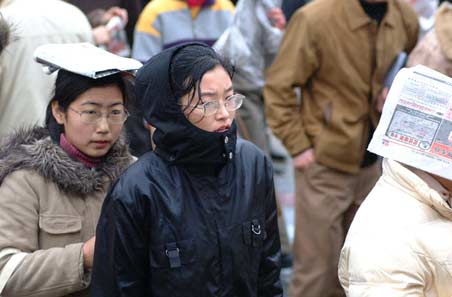 College students queue up in the rain at a recent job fair in Dalian. Seeking a job that matches expectations has been increasingly difficult for students and is contributing to depression among students. [China Daily]


At noon, on May 16, a young woman committed suicide by jumping off the 11th floor of the building. So far, university authorities have not revealed her identity. Local media believe she was a doctorate student from the literature school preparing her graduation thesis.

While some doctorate students have shown sympathy, the response of many students has been stony silence. The apparent numbness could be a result of a spate of college student suicides, which have occured this month.

One day before the tragedy at Renmin University, a female postgraduate student of Beijing Normal University leapt to her death because of depression and academic pressure. On May 14, a junior student in Tsinghua University and a sophomore of China Agriculture University took their lives on their campuses, with the suicide reasons still under investigation. More than 10 college students this month have leapt to their deaths.

Hu Deng, director of the Psychological Counselling Center of Renmin University of China, admits he is nervous these days because May seems to be a dark month for suicide-seekers on the campus.

Between March and May, college students come under the biggest pressure because they must hunt for jobs, wait for the results of the entrance examination to postgraduate or doctorate schools. And they also must prepare their thesis.

Lacking the ability to cope with this adverse situation is a common problem and the examination-oriented education system has largely neglected students' mental health, he says.

Hu and his colleagues have probed into several suicide cases in recent years. They found that a big proportion of the students had a medical history of psychological problems, such as depression.

"Rather than seeking help from us, the students with psychological problems tend to hide it for fear of affecting the future of their studies and employment," he said.

On the Internet, many people expressed deep sorrow about the tragedy. A student named "Xiao Wei" writes in a blog on Sohu.com: "Another doctorate sister has quietly left us. Her dormitory building is next to mine. I do not know whether it was a coincidence but on the same day last year, a doctorate sister from the journalism school chose the same way to finish her life. I had met her in a class one day before her suicide. I feel regret for her."

Readers' Comments:


bestenough
With one child in each family, all the hope and expectation are vested in the only child.It is really awfully lonely and burdersome for any young man or woman to try to meet these hopes of families and society...
Submit Your Comments

"Xiao Wei" respects those who committed suicide, and says one would never understand the pains of others. In fact, "Xiao Wei" had thought of committing suicide, but the love for family pushed the desperate idea away.

Zhao Jie, a first-grade doctorate student from the same literature school, has paid more attention to the death than most of his schoolmates.

Like others, Zhao chose to pursue a doctorate degree in the hope of changing his previous career as a college staffer. However, he has learnt that a doctorate degree without much experience would not secure him a promising job.

"The gap between high expectations and cruel reality would keep imposing an invisible pressure and anxiety throughout the three-year study," he said.

Economic strain is another factor contributing to anxiety. Besides expenses on food and accommodation, Zhao needs to pay 12,000 yuan ($1,560) of tuition fee each year. Like Zhao, most doctorate students depend on family support, their own savings and income from part-time jobs to pull them through the three years.

Zhao describes the everyday life of a doctorate student as "dry and dull". He has to bury himself in books all day to complete the required number of thesises published in national-level academic journals. Communication between students even in the same class is scarce, he says.

Zhang Yanping is deputy director of Beijing Suicide Prevention and Research Center, which is affiliated to Beijing Huilongguan Hospital. Zhang is unsure if the spate of student suicides in May reflects a pattern or is just coincidental. But she notes that one suicide could possibly influence another.

She classifies recent suicidal students into two groups. The first group, which represents about 63 percent of suicide cases, has psychological disorders, such as depression. For people with a history of mental illness, she suggests psychological counselling and the necessary drug treatment.

The second group feels hopeless and is isolated at the time of suicide because of excessive emotional stress caused by employment expectations, examinations and their looming thesis.

For this group of students, suicide intervention is even more difficult, Zhang said.

Zhang's center conducted research among people who attempted suicide. Researchers asked the students about the time intervals between suicidal ideas and action taken. About 37 percent said they acted on their negative thoughts less than five minutes after they occured and 60 percent of the group was less than two hours. "Suicide is one of the most extreme ways for people to solve their problems. In fact, they have many other options and could have talked to people close to them, such as friends, family, and classmates," said Zhang.

Staff operating a free hotline service, opened by Zhang's center, reveal the common problems college students encounter. The major issues include depression, academic pressure, romantic rejection, family conflicts, economical difficulties and frustration because of the gap between the job market and high expectations.

As a professional psychologist, Zhang has observed in recent years that college authorities have been paying more attention to the mental health of students.

Some teachers are obtaining counselling certificates and professional counselling services are also being introduced on university campuses.

Since 2000, Beijing Normal University has initiated the Capital College Students' Psychological Health Festival on May 25 every year. Famous psychologists were invited to give lectures on the subject last Friday in Beijing when universities across the country took part in the festival.

However, experts point out the media has conveyed misleading information that the campus suicide rate was significantly high.

Zhang estimates the suicide rate among college students is only six people per 100,000, which is much lower than 23 per 100,000 among the whole population and more than 30 per 100,000 among people between the ages of 15 and 34.

However, Zhang believes that improving the mental health among students is a life-long project.

"The starting point of cultivating mental health is definitely not the college campus, but from early childhood," she said.