Landing a well-paid job in a foreign company is something millions of China's jobseekers dream of, but the findings of a recent survey may change their minds.
Nearly 90 percent of Chinese staff in foreign companies suffer from work-related illnesses, according to a recent survey by the Horizon Research Consultancy Group.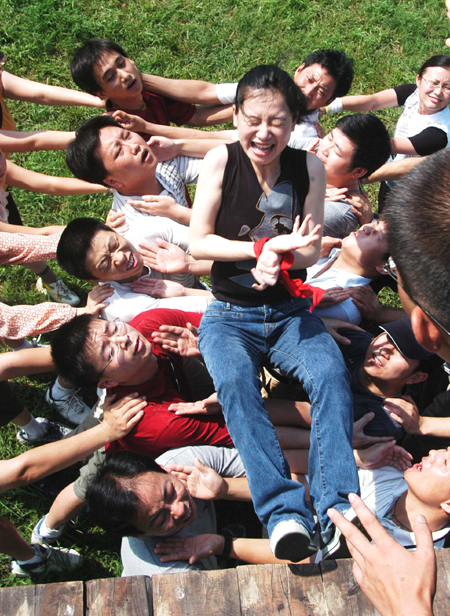 Employees of a foreign-invested enterprise receive outward development training in Suzhou, East China's Jiangsu Province. Many foreign enterprises in China are resorting to such exercises to help their employees build team spirit and tackle problems at work. [China Daily]

Of the 1,521 respondents working for foreign companies, 91 percent reported symptoms such as burnout, stress, frustration, lack of sleep or numbness in the neck and shoulders after work, said Horizon. Those interviewed cited a total of 27 work-related symptoms.

Interviews were carried out over the telephone, via e-mail or fax or face to face in Beijing, Shanghai, Guangzhou and Wuhan.

And 15.4 percent of those surveyed said they suffered from at least seven symptoms, which could lead to a breakdown or serious illness according to Horizon analysts.

Another 5 percent said they suffered from at least 10 symptoms, which indicated they were extremely overworked, said Horizon.

Half of the respondents said they did little physical exercise, while many complained about working more than 10 hours a day, returning home late at night and having to work over weekends.

| | | |
| --- | --- | --- |
| 1 | 2 | |
(For more biz stories, please visit Industry Updates)