Rebels release Chinese hostages
(Xinhua)
Updated: 2007-04-30 23:00
Seven Chinese oil workers kidnapped by Ethiopian rebels after a deadly raid on an oil venture arrived in Addis Ababa on Monday, a Chinese official said.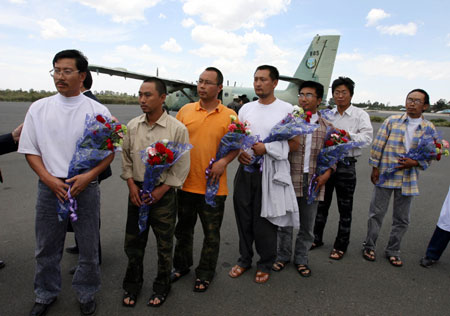 The seven Chinese oil workers kidnapped in a deadly raid staged by rebels on an oilfield in Ethiopia last Tuesday have been released and have arrived in Addis Ababa, captial of of Ethiopia April 30, 2007. [Xinhua]


The staff, who worked for an exploration bureau of the China Petroleum & Chemical Corporation, arrived aboard a military plane from the eastern Ogaden state, where they had been kidnapped Tuesday, Wang Shengwen, head of the special Chinese team sent to rescue the kidnapped workers, told Xinhua.

The workers were scheduled to fly back home to China on Tuesday, Wang said.

All seven were in stable health condition despite obvious tiredness.

The kidnappers, the Ogaden National Liberation Front (ONLF), released the workers on Sunday and handed them to the International Committee of the Red Cross (ICRC).

The Chinese staff were kidnapped on Tuesday at one of the oil company's premises in Ethiopia's Somali state. Some 65 Ethiopians and nine Chinese workers were killed during the attack.

Most Commented/Read Stories in 48 Hours