China said on Thursday it was evaluating the safety of its workers abroad after an attack in Ethiopia that killed nine of its citizens but would continue encouraging Chinese businesses to operate in Africa.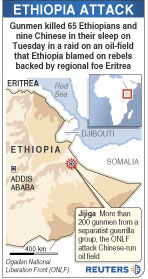 Ethiopian officials have said gunmen belonging to a rebel group, the Ogaden National Liberation Front (ONLF), on Tuesday killed 65 Ethiopians and the Chinese at an oilfield about 100 km (60 miles) south of the regional capital Jijiga.
China on Wednesday condemned the killings.
"In response to these recent incidents concerning the safety of Chinese personnel, the relevant departments are carrying out an assessment of safety abroad to help Chinese businesses smoothly develop economic and trade cooperation abroad and ensure the safety of Chinese personnel," Chinese Foreign Ministry spokesman Liu Jianchao told a news conference on Thursday.
Ethiopian troops searched on Wednesday for seven Chinese and Ethiopian workers kidnapped in the attack.
The ONLF, ethnic Somalis fighting for independence since 1984, claimed responsibility for the raid on the Chinese-run oilfield -- one of the worst attacks aiming foreigners in the country.
But on its Web site, the ONLF blamed the deaths of a "handful" of Chinese on blasts of munitions hit during a battle they said killed or wounded some 400 Ethiopian troops.
China's Xinhua news agency said the Chinese victims were working for Zhongyuan Petroleum Exploration Bureau, which is based in central China's Henan province and is part of the much larger China Petroleum and Chemical Corp. (Sinopec).
Liu said a team of government and Sinopec officials had arrived in Ethiopia to investigate. China would continue to encourage its workers to operate in Africa on the basis of mutual benefit. "This policy will not change," he said.
Chinese workers have also been kidnapped in Nigeria, and those on oil projects in Sudan work under heavy guard.
The bodies of the dead Chinese were flown back to the Ethiopian capital Addis Ababa on Wednesday.