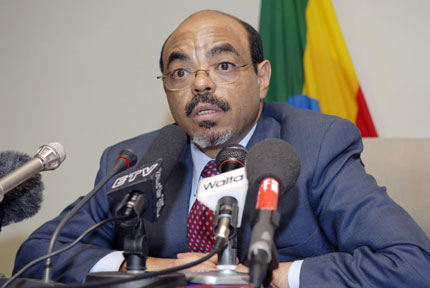 Ethiopia's Prime Minister Meles Zenawi speaks during a news conference in Addis Ababa April 24, 2007. Gunmen killed 65 Ethiopians and nine Chinese in their sleep on Tuesday in a pre-dawn raid on an oil field that Ethiopia blamed on rebels backed by regional foe Eritrea. [Reuters]


Nine Chinese workers were killed on Tuesday in an attack by armed men on an oil field in eastern Ethiopia, a Chinese foreign ministry spokesman said Tuesday in Beijing, strongly condemning the atrocity of armed attacks.

65 Ethiopian employees were also killed in the attack in eastern Ethiopia, a spokesman for Ethiopian Prime Minister Meles Zenawi said.

Liu Jianchao, the spokesman, said seven more Chinese workers were abducted in the attack, and one was slightly injured.

Liu said China strongly condemns such an atrocity of armed attacks, and expresses condolence to the victims in the attack, according to a statement posted on the ministry's website (www.fmprc.gov.cn).

He said the Chinese side has requested the Ethiopian side to make every effort to ensure the safe release of the kidnapped Chinese workers and to take effective measures to guarantee the safety of the staffs with Chinese organizations in Ethiopia. He said the Ethiopia has sent army forces to the place where the attack happened.

The Chinese oil company chartered a plane to collect the bodies of the nine dead workers, Xinhua said.

"It is a massacre. It is a terrorist act, ordered by a terrorist alliance that includes ONLF," said the Ethiopian prime minister's spokesman Berekat Simon.

Ethiopian Prime Minster Meles Zenawi also condemned the slayings.

"It is an outrage," he said at a news conference. "I can assure you that those responsible for this act will pay in full for what they did."

More 200 unidentified gunmen launched an attack on the oil field in Somali state where China's Zhongyuan Petroleum Exploration Bureau was exploring for oil.

According to news agencies, 65 Ethiopian employees were also killed in the attack in eastern Ethiopia, a spokesman for Ethiopian Prime Minister Meles Zenawi said.

The attackers engaged more than 100 soldiers protecting the field in a fierce 50 minute gun battle.

The oil field is located in Abole, a small town about 120 kilometres (75 miles) away from the Somali state capital of Jijiga, it said.

The Ogaden National Liberation Front, a separatist rebel group which is fighting for the independence of ethnic Somalis in Ethiopia's eastern Ogaden region, has claimed responsibility for Tuesday's predawn raid.

The ONLF claimed responsibility in a statement on its website in which it said it had completely destroyed the oil facility.

"We urge all international oil companies to refrain from entering into agreements with the Ethiopian government as it is not in effective control of the Ogaden despite the claims it makes," the statement said.

In a separate email sent to AFP, the group said nearly 400 Ethiopian troops had been wounded or killed in the attack. It blamed "explosions caused by munitions during the battle for the deaths of a handful of Chinese oil workers".

The group said it was holding six Chinese workers, while Chinese and Ethiopian officials said seven Chinese were being held.

"They have been removed from the battlefield for their own safety and are being treated well," the ONLF said.

The attack was the first on an Ethiopian oil field since the ONLF issued a threat to foreign companies operating in the eastern region one year ago.

In Nigeria, armed militants seeking a greater share of that country's oil wealth kidnapped nine Chinese oil workers in January, who were later freed. And two more Chinese workers were kidnapped in March, and their fate is still unknown.

Also in March in Nigeria, five Chinese telecommunications workers were abducted for two weeks.