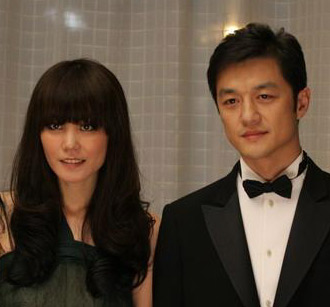 Chinese pop diva Faye Wong and her actor husband Li Yapeng attend a charity ball to raise funds for their Smile Angel Foundation in Beijing, December 26, 2006. [Sina.com.cn]

Chinese pop diva Faye Wong and her actor husband Li Yapeng held a charity ball in Beijing Tuesday night to raise funds for their Smile Angel Foundation.

This was Wong's first public appearance since she gave birth to her daughter Li Yan in May. Li Yan subsequently underwent corrective surgery in the United States for a cleft lip.

Many big-name Chinese stars including Zhao Wei, Xu Jinglei and Na Ying, attended the banquet. More than a hundred security guards have been hired to maintain order, the Shanghai Morning Post reported.

A tatol of 8.44 million yuan (US$1.05 million) was collected during the banquet, which was highlighted by an auction. Most of the items have been donated by Wong, Li and their friends, including a very precious Thangka, a Tibetan scroll painting, paintings by contemporary Chinese artists Fang Lijun, Huang Zhou and Yan Ping, jewelry and Buddhist music autographed by Wong, it reported.

Wong and her husband Li Yapeng started the foundation in November to help children with cleft lips and palates. The couple donated 1 million yuan (US$125,000) to start the foundation which will be supervised by the Red Cross Society of China.

The foundation's website says that it had received a total of 1.13 million yuan (US$141,250) donations as of Dec. 18.

Harelips, which are often associated with cleft palates, are a common congenital malformation. China has 2.4 million children born with cleft palates, government statistics show.

Everything from rent of the hall to drinks, presents and lighting equipment at the charity ball have been donated by friends of Wong and Li, the newspaper reported.

"It will be a very thrifty ball because they want every cent to be spent on the children that need help," said Ma Jia, Li Yapeng's business manager.

Wong, a Beijing native who made her name in Hong Kong, has not appeared in stage in recent years. She has another daughter from her previous marriage to Chinese rocker Dou Wei.