Agent confirms Faye Wong's pregnancy
(Shenzhen Daily)
Updated: 2005-11-07 13:52
The long-time speculation on Asian pop diva Faye Wong's pregnancy has been confirmed by her Hong Kong agent Katie Chan, according to Sina.com, one of China's biggest and most popular Web sites.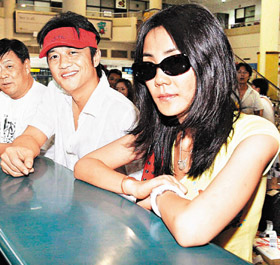 Hong Kong pop diva Faye Wong and rumored husband Li Yapeng check in at the Thailand airport before boarding the plane bound to Shanghai on August 15, 2005. The couple were reportedly finished with their honeymoon journey in Thailandd. [sina]


Chan told media that she was informed about Wong's pregnancy when the singer made a trip to Hong Kong last month but refused to reveal any additional details.

Chan stressed that the news was released with Wong's permission. Chan asked reporters to be patient and respect the singer's privacy. She said Wang has no plans for work on her agenda.

Wong has seemingly decided to give up her singing career in Hong Kong and settle down in Beijing after her pregnancy. On Saturday dozens of moving company workers showed up at Wong's apartment in Hong Kong, packing more than 100 boxes of furniture and personal belongs into a moving van.

Since her marriage to mainland actor Li Yapeng in early August, the singer has sharply cut back on the time she spends in Hong Kong. Wong has already sold all her land holdings in Hong Kong, part of her determination to return to her hometown Beijing.