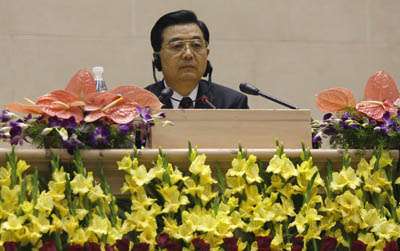 China's President Hu Jintao attends a function with business leaders, diplomats and politicians in New Delhi November 22, 2006. India and China agreed on Tuesday to boost trade and renew efforts to solve their border dispute, adding there was enough room for the Asian giants to grow together while remaining sensitive to the other's concerns. [Reuters]


NEW DELHI: China and India shoulder the weighty responsibility of securing peace and stability in Asia and promoting regional rejuvenation, President Hu Jintao said Wednesday.
Special coverage:
Hu Visits India

Related readings:
Hu makes five-point proposal for better ties
China, India trade to hit US$20b this year
Hu visits Ganhdi memorial, meets top officials in India
Hu aims to boost trust with India
China, India hope trade to reach US$40B in 2010
Hu visits India to boost ties
Hu Jintao visits India
Hu arrives in India for state visit
Hu kickstarts India visit
Bilateral ties get a push
Experts: Dialogue best way to avoid rivalry
Hu promotes mutual trust in India
"Working hand-in-hand, China and India will deliver enormous benefits to the 2.4 billion people in both countries as well as to all peoples in Asia and the world," he said while delivering a speech in the morning to Indian legislators, politicians, researchers and university students at Vigyan Bhawan, or Science Palace.

He said that China strongly believes that India's development will help improve the overall strength of Asia and its overall standing in the world, empower developing countries and promote peace and development in the region and the world.

He said that he had fruitful talks with Indian leaders; and both sides believe that China and India need to deliver an important message to the world that the neighbouring nations are "true friends and partners."

"China and India are on fast tracks of economic and social development, demonstrating to the world the bright future of the two countries and promise of a revitalized Asia," Hu said.

On Tuesday, India and China agreed to double trade between the two countries to US$40 billion by 2010.

Politicians in both countries need to look at the development of the relationship with a long-term and strategic perspective and take the opportunity to push forward bilateral strategic and co-operative partnership, Hu said.

He highlighted the promise of increased people-to-people exchanges, including the China-India Year of Friendship through Tourism next year.

Quoting a Confucius dictum, "One who wishes success should also help others to achieve success," Hu said that China wants to develop but also wishes to make progress along with other countries in harmony for mutual benefit and common growth.

Hu also pointed out that a peaceful and prosperous South Asia is in accordance with the common interests of China and other nations in the region. He stressed that China welcomes and supports India and Pakistan in their efforts to improve bilateral relations.

"China does not pursue any selfish gain and it stands ready to play a constructive role to promote peace and development in South Asia."

Hu's speech won warm applause from the audience.

"It presented a framework which will reverberate in the discourse of the China-India relationship for a long time," Manoranjan Mohanty, professor of political science and director emeritus of the Developing Countries Research Centre at University of Delhi, told China Daily.

He said that Hu's visit "shows that (China-India) relations have matured; they have business-like interaction. They are going in depth, from trade to culture, to tourism, to political issues."

Mohanty said that it was also "significant" that the leaders of both countries stressed that the development of China and India is not competition or rivalry.

Vinod C. Khanna, a retired diplomat who was in Beijing during 1966 and 1967, said: "Little glitches here and there will not affect the overall strategic and co-operative partnership."

Hu leaves India Thursday for Pakistan, where he plans to sign agreements on trade, culture and education.