Hu: China not seeking selfish gains
(Reuters)
Updated: 2006-11-22 16:40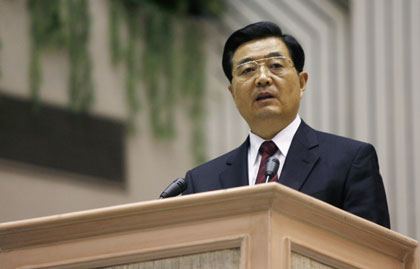 China's President Hu Jintao speaks during a function with business leaders, diplomats and politicians in New Delhi November 22, 2006. Hu said on Wednesday Beijing was not seeking "selfish gains" in South Asia and was willing to work with New Delhi to push for an early settlement to a decades-old border dispute. [Reuters]



NEW DELHI - Chinese President Hu Jintao said on Wednesday Beijing was not seeking "selfish gains" in South Asia and was willing to work with New Delhi to push for an early settlement to a decades-old border dispute.

China was keen to enhance mutual political trust between the neighbours, consolidate business links and establish a strategic partnership to help make the 21st century an Asian century, the Chinese leader said.

Hu is the first Chinese president to visit India in a decade and the second ever.

"China does not seek any selfish gains in South Asia and is ready to play a constructive role in promoting peace and development in the subcontinent," Hu said in a speech to business leaders, diplomats and politicians.

"China also welcomes the improvement in relations between India and Pakistan," he said, referring to the South Asian rivals who are making slow progress in a peace process launched three years ago.

South Asia is crucial to Asia's progress and peace and prosperity in the region is in China's interest, Hu said.

The speech came a day after the Chinese leader and Indian Prime Minster Manmohan Singh agreed to boost trade -- expected to touch $20 billion this year -- and renew efforts to solve the border dispute that is at the root of their mistrust.

Hu is due to travel to Islamabad on Thursday at the end of his four-day India visit.

He is expected to discuss a civilian nuclear cooperation deal with Pakistan, seen as a counterbalance to a landmark nuclear deal between India and the United States which is awaiting some final approvals by US Congress.

Hu said China and India were true friends and partners and Beijing was ready to work with New Delhi to increase mutual political trust. He added both needed to remove barriers to trade and investment.

An early settlement of the dispute over their Himalayan border would go a long way in contributing to peace and stability between the two countries, he said.

"The early settlement of the border issue ... is a shared wish of the two peoples," Hu said.

"China is ready to work with India ... in the overall interest of the two countries to actively seek a fair, just, mutually acceptable solution through friendly consultation on a equal footing."


Most Commented/Read Stories in 48 Hours