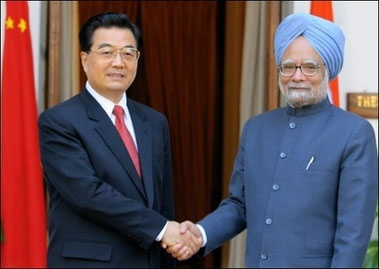 Chinese President Hu Jintao (L) shakes hands with Indian Prime Minister Manmohan Singh prior to a delegation level meeting in New Delhi. [AFP]


China and India, the world's two fastest-growing major economies, agreed to boost trade and investment and promote cooperation in areas such as civilian nuclear energy.
Special coverage:
Hu Visits India

Related readings:
China, India boost Africa's growth
India-China trade can double to US$30b Tech firms woo 'next billion users'
China, India urged to step up co-operation
China ready to boost partnership with India
Report: Silk Road pass to increase tourists to India
A developing Tibet shows its new face
Lenovo to take home model overseas
The two sides signed as many as 13 agreements today in New Delhi during Chinese President Hu Jintao's visit, the first by a Chinese president in a decade. The president, who arrived in India yesterday, said today he wanted to "strengthen the friendship between the two countries, increase mutual trust, expand cooperation and chart a course for the future."

India and China, who fought a border war in 1962, have improved political, economic and military ties in recent years. The world's two most populous nations, which aim to consolidate trade and economic cooperation by ending years of mistrust, said they want an early settlement of their boundary dispute.

Trade between the two countries should be boosted to $40 billion by 2010, said Indian Prime Minister Manmohan Singh at a joint press conference in New Delhi before the agreements were signed. Trade has risen from $260 million in 1990 to $18.7 billion in 2005, Sun Yuxi, China's ambassador to India said in a release issued in local newspapers in New Delhi today. It has reached $13.6 billion in the first seven months of this year and is expected to surpass $20 billion by the year end, he said.

'Promoting Dynamism'

"The idea now is to keep promoting the dynamism that has come through trade and thereby allowing it to become a foundation of the relationship,"said Alka Acharya, chairman of East Asian studies at the School of International Relations, Jawaharlal Nehru University, New Delhi. "The high-level negotiations are designed to promote the overall environment for the improvement of the relationship."

Trade will form the foundation of the ties between the two, China and India said in a joint declaration issued in New Delhi today after the agreements were signed.

"Both sides believe that comprehensive economic and commercial engagement is a core component of their strategic and cooperative partnership,"the two said. "They shall make joint efforts to diversify their trade basket, remove existing impediments and optimally utilize the present and potential complementarities in their economies."

The two sides will promote nuclear energy cooperation.

"The two sides agree to promote cooperation in the field of nuclear energy, consistent with their respective international commitments,"the joint declaration said.

Huawei Technologies Co. and other companies linked to the Chinese government want to invest in India, which, Singh has said, needs $320 billion by 2012 to upgrade ports, expand railways and build roads.

| | | |
| --- | --- | --- |
| 1 | 2 | |