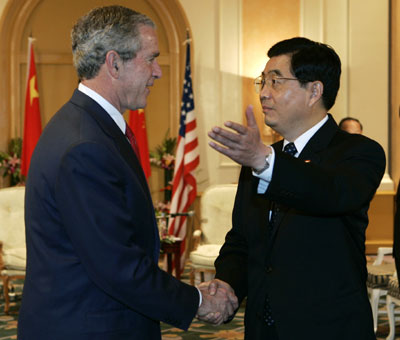 U.S. President George W. Bush meets with China's President Hu Jintao at the Asia-Pacific Economic Cooperation (APEC) Summit in Hanoi November 19, 2006. [Reuters]


HANOI: China said on Sunday that "wisdom and patience" are needed to find solutions to the nuclear issues on Korean Peninsula.

President Hu Jintao and US President George W. Bush held a 75-minute meeting on the sideline of the Asia-Pacific Economic Co-operation (APEC) on Sunday, during which Hu expressed the willingness to work with all parties, including US, to push the resumption of the Six-Party talks at appropriate time.

"We should insist on peaceful dialogues and find practical solutions with wisdom and patience to achieve the denuclearization of the Peninsula in an early date," said Hu.

He urged all parties to reaffirm the commitments made in the joint statement signed by six countries in September of last year. Democratic People's Republic of Korea (DPRK), US, Republic of Korea, China, Russia and Japan are involved in the talks.

In the "September 19 joint statement," DPRK is committed to abandoning all nuclear weapons and existing nuclear programmes, while US affirmed that is has no nuclear weapons on the Korean Peninsula and has no intention to attack or invade the DPRK with nuclear or conventional weapons.

But follow-up discussions in November 2005 failed to make any progress on implementing the deal and no meetings have been held since. Pyongyang tested a nuclear device on Oct. 9.

Bush told Hu that international community should give signals to urge DPRK to take right action and be on the right track.

The US hopes to resolve the problem through peaceful means and hope the Six-Party talks could achieve success, Bush was quoted as saying by Chinese Foreign Ministry spokesman Liu Jianchao.

On the Iranian nuclear issue, Hu urged all parties to "keep patience and calmness" and hold contact and dialogues with Iran to find effective solution, so as to create conditions for the resumption of negotiations.

Bush said that the Security Council of the United Nations should adopt resolute and rational attitudes towards the Iranian nuclear issues.

Strategic economic dialogue

China and US will hold their first strategic economic dialogue in the middle of next month, according to Hu.

US Secretary of Treasury and Chinese Vice Premier Wu Yi will lead the dialogue, which is expected to cover many issues of common concerns in economic and trade sectors.

"The dialogue mechanism will be very important for pushing bilateral economic and trade co-operation," said spokesman Liu, noting both China and US are important trade members in the global economy.

Hu said that bilateral trade has also been expanding very rapidly. According to US figures, US exports to China in the first seven months of this year jumped 35 per cent.

Bilateral trade reached US$211.63 billion last year, up 24.8 per cent over the previous year. China enjoys the surplus of US$114.17 billion.

Both leaders are satisfied with the development of bilateral ties.

They have already met three times this year, had four telephone conversations and maintained great exchange of letters.

"It is fair to say that we had kept very close touch and has vigorously promoted the China-US relations", said Hu, noting he witnessed the new progress in bilateral ties since they met in S. Petersburg of Russia this July.

The two countries have maintained frequent exchange of visits at the top levels and different levels, according to Hu.



| | | |
| --- | --- | --- |
| 1 | 2 | |