WASHINGTON - US President George W. Bush and other APEC leaders are expected to call for a landmark study on forging an Asia-Pacific-wide free trade agreement, a senior US official said.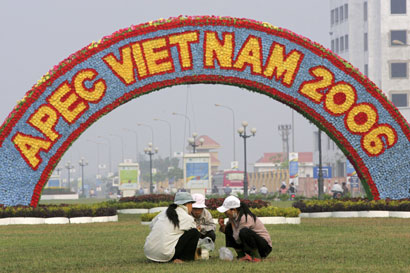 Workers take a break outside the venue for the Asia-Pacific Economic Cooperation (APEC) meeting in Hanoi November 14, 2006. Hanoi hosts the annual Asia-Pacific Economic Cooperation (APEC) meeting from November 12 to 19 as the World Trade Organisation's newest member and Asia's only candidate to become a non-permanent member of the United Nations Security Council in the 2008-09 term. [Reuters]


They could establish working groups to look into the benefits of the free-trade area among the 21 economies of the Asia-Pacific Economic Cooperation (APEC) forum, including the United States, Japan, Russia, China and most Southeast Asian economies, the official said ahead of a Hanoi summit this week.
The proposed free-trade area among APEC economies, which account for nearly half of world trade and generate 70 percent of global economic growth, comes amid a deadlock in talks to forge a new global trade accord.
"The idea is to really evaluate whether an APEC-wide free-trade agreement would be a benefit to the members of APEC," the US official said, on condition of anonymity. It would "lay out the game plan for determining how one might come together," he added.
The leaders are expected to focus on "what source of analysis and what source of working groups might be established over the next year to really understand what would need to be accomplished to make a free-trade agreement of the Asia-Pacific a reality and what the benefits would be to APEC members," he said.
Business groups in the region have lobbied for several years for a regional free-trade plan linking both sides of the Pacific. But APEC leaders have sidestepped the controversial idea, including even a feasibility study.
The United States is believed to be spearheading the initiative among member economies to look into the viability of the plan, which could face opposition from China forging its own set of intra-regional free trade plans.
US Trade Representative Susan Schwab said the United States hoped the Asia-Pacific free-trade plan would eventually become a reality.
"We aren't talking about suddenly launching a negotiation for a free-trade area of the Asia-Pacific region. I think over time we would hope to see that evolve and it's a good topic" for discussions within APEC, she said.
Now that Washington wants to explore this issue further, "I think there is real weight behind it," an APEC official told AFP on condition of anonymity. "That is the real development."
APEC, which operates by consensus, is already implementing a nonbinding tariff-busting plan to achieve free trade and investment among developed member economies by 2010 and developing members 10 years later.
The plan, adopted in 1994, is ineffective and needs to be overhauled, critics say.
The US-led move to revive the regional free-trade idea could signal European nations and others that are not in APEC, such as India and Brazil, on the need for an agreement on the stalled Doha Round of global trade talks, experts said.
"This is absolutely critical. Particularly at a time when there's lots of questions about whether there can be any positive movement on the trade front going forward," said Grant Aldonas, a business expert at the Washington-based Center for Strategic and International Studies.
The Doha round began in the Qatari capital at the end of 2001, with the goal of reducing subsidies, tariffs and other barriers to commerce and raising living standards in developing countries.
But the talks have consistently been dogged by disputes between rich and poor nations, as well as among wealthy players such as the United States and the European Union, over the concessions required.
A compromise among the heavyweights is seen as the key to the round and Bush is expected to seek the support of his APEC counterparts for a strong call for resumption of the Doha talks.
The US official emphasized that APEC leaders were committed to forging a new global trade accord, saying "a discussion of a free-trade agreement for Asia-Pacific in no way is in conflict with the notion of a successful Doha round."
Bush is also set to sign an agreement in Hanoi with Russian President Vladimir Putin on Russia's long-delayed accession to the WTO but his plan to normalize trading relations with former enemy Vietnam suffered an early setback Monday in Congress.
APEC comprises Australia, Brunei, Canada, Chile, China, Hong Kong, Indonesia, Japan, South Korea, Malaysia, Mexico, New Zealand, Papua New Guinea, Peru, the Philippines, Russia, Singapore, Taiwan, Thailand, the United States and Vietnam.