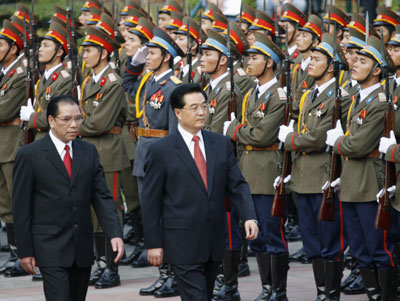 China's President Hu Jintao and Vietnam's General Secretary of the Communist Party Nong Duc Manh (L) walk past a guard of honour at the presidential palace in Hanoi November 16, 2006. Hu is attending the Asia-Pacific Economic Cooperation (APEC) summit in Vietnam. [Reuters]



HANOI: China and Viet Nam Thursday signed a dozen agreements ranging from economic development to joint exploration in the Beibu Bay during President Hu Jintao's state visit to the Southeast Asian country.

Hu met General Secretary of the Communist Party of Viet Nam Central Committee Nong Duc Manh and Vietnamese President Nguyen Minh Triet after a welcome ceremony.

The Chinese president called for joint efforts to elevate economic partnership to a new level. China and Viet Nam, both members of the World Trade Organization, should push the development of a multilateral trading system, he said.

They should also speed up negotiations on services, trade and investment for the proposed China-ASEAN Free Trade Area (FTA), said Hu.

Viet Nam is a member of the Southeast Asian economic bloc, which has agreed to set up an FTA with China by 2010.

The two sides should speed up the land demarcation process, strengthen co-operation in the Beibu Bay region and push the joint development of the South China Sea, said Hu.

Officials from both sides recently agreed to accelerate the installation of border markers under an agreement signed last year on completing the demarcation of the 1,350-kilometre border by 2008. The two sides still have territorial disputes in the South China Sea.

Hu said that the objectives should be realized in accordance with the principle of "being fair and rational, and making mutual accommodation."

Manh said that the two countries should "properly resolve the border and territorial disputes through friendly consultation."

He expressed firm support to the one-China policy and opposition to Taiwan "independence."

The three leaders also called for good planning and execution of the strategy known as "the two corridors and one circle."

The two corridors refer to the economic belts stretching from Kunming in Southwest China's Yunnan Province to Hanoi and from Nanning in Southwest China's Guangxi to Hanoi while the circle refers to the pan-Beibu Bay economic area.

Among the documents signed is a memorandum of understanding on co-operation on the "two corridors and one circle" strategy.

China and Viet Nam have become closer in recent years, with frequent reciprocal visits by leaders creating a platform for stable co-operation.

Bilateral trade reached US$8 billion last year and is expected to surpass US$10 billion this year, four years ahead of the target set by the prime ministers of the two countries in 2004.

Hu's three-day state visit to Viet Nam comes ahead of this weekend's meeting of the Asia-Pacific Economic Co-operation.



| | | |
| --- | --- | --- |
| 1 | 2 | |