China-Japan relations are "back on track" since Shinzo Abe became Japanese Prime Minister in September, a top Chinese official said following a meeting between the countries' two leaders in Hanoi.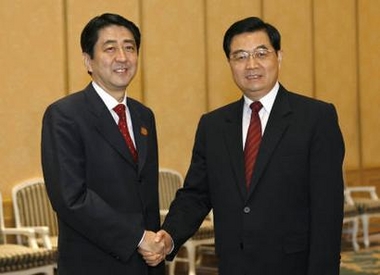 China's President Hu Jintao (R) meets with Japan's Prime Minister Shinzo Abe on the sidelines of the Asia-Pacific Economic Cooperation summit in Hanoi November 18, 2006. [Reuters]


"Since Prime Minister Abe's visit to China, China-Japan relations have improved dramatically and are now back on track," Huang Xingyuan, Councilor with China's Foreign Ministry, said Saturday after Abe and Chinese President Hu Jintao met at the Asia-Pacific Economic Cooperation summit in Hanoi.

Ties between Asia's two largest economies soured over former Prime Minister Junichiro Koizumi's visits to Yasukuni Shrine, where 14 Japanese leaders convicted of war crimes are memorialized, complicating economic relations and efforts to persuade North Korea to shut down its nuclear weapons program.

Abe apologized to Hu for Japan's aggression in the first half of last century on a visit to Beijing Oct. 8, the day before North Korea tested a nuclear weapon. It was the first time in five years a Japanese prime minister visited China.

Hu welcomed Abe's bid to mend ties between the countries when they met Saturday morning.

"The talks today were constructive and positive and will definitely improve China-Japan relations," said Chinese Foreign Minister Li Zhaoxing Saturday.

Hu's Japan Visit

"This is a sign that both countries relations are improving and developing, and that progress is being made," Hu told Abe, according to a pool statement released to reporters today. "China-Japan relations will be at this important juncture for some time and it is important that both countries' leaders work toward developing relations in the right direction."

In Hanoi Saturday, China's Huang said the two countries would continue to negotiate a planned visit of Hu to Japan early in 2007, which would be the first visit of a Chinese president since 1998.

Malaysian Prime Minister Abdullah Ahmad Badawi said Saturday in Hanoi that "animosities" between Japan and two of the countries it occupied before and during World War II, China and South Korea, were "an obstacle" to peace in Asia. "They have affected regional harmony and stability," he said.



| | | |
| --- | --- | --- |
| 1 | 2 | |