HANOI: China called for relevant parties of the Six-Party talks to reaffirm the joint statement signed in September last year that requires Democratic People's Republic of Korea (DPRK) to abandon its nuclear programme in exchange for security guarantees and aid, said President Hu Jintao here on Friday.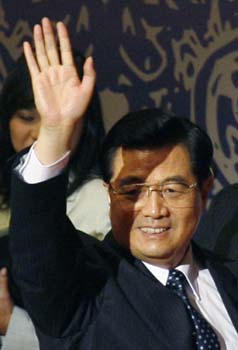 China's President Hu Jintao arrives at an Asia-Pacific Economic Cooperation (APEC) CEO summit at the National Convention Centre in Hanoi November 17, 2006. [Reuters]

"(Relevant parties) should make substantial steps in implementing the joint statement," Hu was quoted as saying in the meeting with President of the Republic of Korea (ROK) Roh Moo-hyun.

Hu and Roh are in Hanoi to attend the summit meeting of Asia-Pacific Economic Co-operation.

The key to resolving the nuclear problem on Korean Peninsula right now is the early resumption of the Six-Party talks and the recognizance of the September 19 joint statement, according to Hu.

All parties of the talks -- DPRK, the United States, ROK, China, Russia and Japan -- signed a joint statement in September of last year, in which DPRK is committed to abandoning all nuclear weapons and existing nuclear programmes, while US affirmed that is has no nuclear weapons on the Korean Peninsula and has no intention to attack or invade the DPRK with nuclear or conventional weapons.

But follow-up discussions in November 2005 failed to make any progress on implementing the deal and no meetings have been held since. Pyongyang tested a nuclear device on Oct. 9.

Both China and ROK devote to denuclearisation of Korean Peninsula, safeguarding regional peace and stability and resolving the problem in peaceful means, according to Hu.

China will make unremitting efforts to solve the nuclear problem on the Peninsula through dialogues and is willing to strengthen coordination and co-operation with ROK to push the situation towards the good direction, he said.

Roh appreciated China's efforts in resuming the Six-Party talks, which he said still have many problems.

Relevant parties must make decisions and adopt flexible measures to make progress in resuming the talks, he noted.

He shared the view with Hu that dialogues must be adopted to solve the problem and said that ROK will increase communication and coordination with China to safeguard peace and stability in the Northeast Asia.

| | | |
| --- | --- | --- |
| 1 | 2 | |