Hu: China to pursue peace, prosperity
By Sun Shangwu (chinadaily.com.cn)
Updated: 2006-11-17 14:09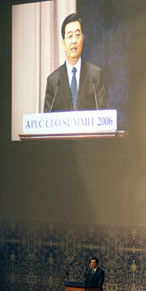 President Hu Jintao speaks at an Asia-Pacific Economic Cooperation (APEC) CEO summit in Hanoi November 17, 2006. [Reuters]


HANOI -- Visiting President Hu Jintao on Friday called for increasing official aid to developing countries to narrow the gap between the rich and the poor and promised to make China remain a staunch force in upholding world peace.

He made the remarks when addressing the Asia-Pacific Economic Co-operation (APEC) CEO Summit, which is held under the theme of "Towards One Community: Creating New Opportunities for Shared Development."

"We should increase official development assistance with no strings attached to developing countries, intensify economic and technical co-operation in various forms and help them in human resources development, thus helping to foster an enabling external environment for their development," said Hu.

The deepening of economic globalization and region integration has brought countries closer, but imbalance in development remains a major problem.

"Some developing countries have not gained their fair share of benefit from economic globalization," said Hu, noting that recent years have seen increasing non-traditional security threats including terrorist activities, natural disasters and outbreak of major communicable diseases.

He called for increasing North-South co-operation and South-South co-operation to narrow development gap and promote common development.



China's development goes hand in hand with the development of the Asia-Pacific and the world, and its opening up and development is of great importance to peace and development, according to Hu.

From 1978 to 2005, China's GDP increased from US$147.3 billion to US$2.235 trillion, registering an average annual growth of 9.6 per cent. In the same period, China's trade increased from US$20.6 billion to US$1.4221 trillion, growing by 16 per cent annually.

"We will further deepen the reform of foreign-related economic sectors, accelerate the transformation of pattern of trade growth and improve trade structure to ensure balanced growth of import and export," he said, "we will actively introduce foreign investment, open the service sectors wider, enhance intellectual property rights protection and raise China's overall level of openness."

Since China's accession to the World Trade Organization in 2001, China's import has totaled US$2.4 trillion, and foreign investors in China repatriated US$58 billion in profit.

Statistics of the World Bank show that in this period, China on the average contributed to 13 per cent of the world economic growth, according to Hu.

China calls for building a harmonious world of enduring peace and common prosperity and Hu said that harmony is a "defining value of the Chinese civilization."

He encouraged business leaders to give more priority to exploring business opportunities and expanding market share in developing countries.

But he also said that China faces major problems and challenges, including persistent structural imbalance and inefficient mode of economic growth.

"To resolve these pressing issues, we pursue a scientific outlook on development which puts people first and aims at comprehensive, coordinated and sustainable development," said Hu, who put forward four-point measures.

-- Speed up economic restructuring and transformation of pattern of economic growth.

--Accelerate the building of new socialist rural village to break down the barriers between urban and rural areas.

-- Promote balanced regional development. More support will be given to less developed and poorer regions.

-- Build a harmonious society.

"The key message from Hu's speech is the development in peace," said Kelvin Lee, managing director of the Vina Capital company, noting the peaceful rise of China will bring benefits to the region and the world.

"Hu told business leaders from Asia-Pacific that we are in the one big family and we must work together," Lee told China Daily after the speech.

He appreciated Hu's proposal of increasing official aid to developing countries.
"After making yeas of efforts to prosper its economy, China starts to play bigger role in providing help to other countries, which is the significant step for narrowing the development gap," he noted.

Christopher J. Flint, senior sales director of the Boeing company, said that China is a good example for developing countries in terms of elimination of poverty and improving people's lives.

China's growing role in international affairs will be conducive to world peace and prosperity, he added.

China successfully hosted the summit with 47 African countries earlier this month and it introduced a package of aids to African countries, including doubling the assistance amount to them.
Most Commented/Read Stories in 48 Hours