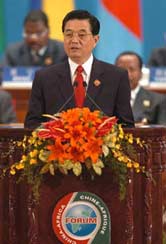 Chinese President Hu Jintao gives a speech at the opening ceremony of the Beijing Summit of the Forum on China-Africa Cooperation (FOCAC) at the Great Hall of the People in Beijing, Nov. 4, 2006. [Xinhua]


Chinese president pledged billions of dollars in aid to Africa as the biggest diplomatic gathering ever hosted by China got under way, aimed at deepening trade, cooperation, and genuine partnership.
Hu announced fresh pledges of aid and loans in the next three years, saying China's aid to Africa would double by 2009. [Full Text]
China would also provide three billion dollars of preferential loans and two billion dollars of preferential buyer's credits loan to the continent, he said. [Full Text]
Beijing would also cancel more debt owed by poor African countries in the form of interest-free government loans, he announced. [Full Text]
Business is a major focus of the summit, with more than 2,500 deals under discussion.
Hu pledged China would further open up its market to Africa by increasing the number of tariff-free export products from 190 to 440 and establish three to five trade and economic cooperation zones in Africa. [Full Text]
A five-billion-dollar development fund to encourage Chinese companies to invest in Africa would also be set up. [Full Text]
Special coverage:
Summit new peak in China-Africa relations

Related readings:
President Hu Jintao delivers speech at China-Africa summit [Full Text]
Chinese premier hails China-Africa economic cooperation
China-Africa trade expected to top US$100 billion by 2010
Sino-African summit a historic event, Hu says
Leaders call for closer co-operation
Telecom company looks to Africa
Beijing will also train 15,000 African professionals, build schools, hospitals and anti-malaria clinics and send Chinese youth volunteers to Africa, he added. [Full Text]

"China will forever be a good friend, good partner, good brother of Africa," Hu told the 48 African countries represented at the Great Hall of the People.

"Common development is the shared aspiration of the Chinese and African peoples... We are committed to pursuing mutually beneficial cooperation to bring the benefits of development to our peoples."

"Without combined development between China and Africa, there will be no global peace and development," the Chinese president said.

Trade between China and Africa is expected to exceed US$50 billion this year, a near tenfold increase since 1995, and one of the main themes of the China-Africa Forum is ensuring that number continues to grow.

A total of 41 African heads of state and government, a vice president and several top economic leaders are representing their nations at the meeting. It is the biggest diplomatic gathering ever hosted by China.

Beijing invited the leaders from 48 of Africa's 53 nations -- with the other five countries which recognize Taiwan also encouraged to send representatives -- in what the officials and scholars are hailing as an historic event between a fast-growing China and the world's least developed continent.

"China and Africa cooperation serves peace and development on both sides as well as the world," China's foreign ministry spokesman Liu Jianchao said. A total of 35 African heads of state, six heads of government, a vice president and several top economic leaders are representing their nations at the meeting, he said.

"When China is building roads and schools and providing health infrastructure and agricultural technology to African countries, are we damaging human rights in Africa? Are we hurting good governance in those countries? African people are benefiting from China's projects," said Liu.

President Hu Jintao and Premier Wen Jiabao are holding multiple meetings with a procession of African heads of state at the Great Hall of the People, with new cooperation projects and aid programs being discussed, and new ideas of a wide range of interests being exchanged.

China's media have promoted the "three 50s": 50 years of Chinese-African cooperation, 53 African countries, $50 billion in two-way trade, a near ten-fold increase since 1995. China Central Television is conducting a nationwide survey to select 10 outstanding African icons, contenders including South African diamonds and the Sahara Desert.

Sources said that by the end of the meeting China will unveil a variety of trade and aid concessions to the African countries. These may include a list of African goods that can enter China tariff-free, increases in aid and technical cooperation and debt forgiveness.

More than 2,500 business deals will be under discussion at the official two-day summit beginning Saturday, Chinese deputy trade minister Wei Jianguo said.

And comments by participants about a statement to be released on Sunday after the summit emphasized that China and Africa are intent on building up their relationships in a wide range of spheres aside from trade.

"The Beijing Declaration will aim to establish a new type of strategic partnership between China and Africa based on equality, mutual trust, economic win-win cooperation and cultural exchanges," an envoy from summit co-chair Ethiopia was quoted in China's state press as saying.

African leaders were also taken on a tour of some of the venues being built for the 2008 Beijing Olympics, including the National Stadium known as the "bird's nest" because of its mesh of interlocking steel beams.

Some Western governments have expressed concerns or nervousness in the face of the getting-closer ties between China and Africa, some criticizing Beijing's unrestricted lending and investment policies in Africa regardless of African countries' governance and human rights record. China shrugged off that claim.

"Our principle when handling our relations with other countries is to never try to impose our social system, development mode, values and ideology upon other countries," Foreign Ministry spokesman Liu Jianchao said.