African leaders Thursday hailed the role of China in safeguarding the interests of developing countries, and expressed their hope for stronger co-operation with the fast-growing Asian economic power.

They also expected the upcoming Beijing Summit of the Forum on China-Africa Co-operation (FOCAC) to further benefit the continent's development.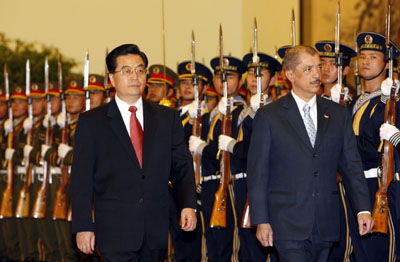 Chinese President Hu Jintao (L) and Seychellois President James Alix Michel review a honor guard during a welcome ceremony at the Great Hall of the People in Beijing Thursday, Nov. 2, 2006. James Alix Michel is in Beijing for a state visit to China and the Beijing Summit of the Forum on China-Africa Cooperation (FOCAC), which is scheduled for Nov. 4-5. [Xinhua]


"We feel glad and proud of the huge achievements China has made," Seychelles President James Michel said during talks with President Hu Jintao.
"A more developed China can help better safeguard the interests of developing countries."
Michel said his country is willing to develop a new type of partnership and strengthen its exchanges and co-operation with China.
Special coverage:
Summit new peak in China-Africa relations

Related readings:
Beijing to announce aid, trade package to Africa
Sino-African summit a historic event, Hu says
UNICEF: Do more to help children in poverty
Peacekeeper sees signs of hope for Liberia
Seychelles leader discusses education ties
Beijing ready for Sino-Africa summit
Telecom company looks to Africa
Hu's meeting with the Seychellois president, on his fifth trip to China, came ahead of the Beijing Summit that opens tomorrow.
A total of 48 African countries with diplomatic relations with China will send delegations to the two-day summit.
Michel expressed his belief that "the summit will help the international order develop in the direction of equity and reason."
During separate meetings with Botswanian President Festus Mogae and Sudanese President Omar Hassan al-Bashir, Hu said the summit, as the highest-level bilateral meeting, will chart the path for Sino-African co-operation in the future.
Mogae and al-Bashir said the people in Africa are beneficiaries of African co-operation with China, and FOCAC has become a model for South-South Co-operation.
They stressed that China's policy of enhancing co-operation with Africa is of significance to the development of the continent.
China, the world's largest developing country, has established closer economic and trade links with Africa, which has most of the world's developing nations.
Since 2001, bilateral trade has grown at an annual average of nearly 40 per cent to reach US$39.74 billion last year.
So far, China has invested US$6.27 billion in Africa and aided nearly 900 projects in African countries.
On the sensitive issue of Darfur, Hu said China expects Sudan to strengthen dialogue with all sides to strive for an appropriate solution.
"Stability should be maintained in the Darfur region so as to continuously improve humanitarian conditions there," Hu said.
The western province has suffered from a three-year war waged by rebels and has reportedly left 200,000 people dead and 2.5 million displaced.
Al-Bashir said the Sudanese Government is committed to peaceful settlement of the Darfur issue and is seeking to co-operate with the African Union for an effective mechanism to push forward the peace process in the region.