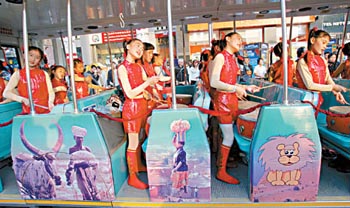 Primary-school students from Beijing's Dongcheng District rehearse for a traditional drum performance yesterday. They will perform for the African guests and other visitors in downtown Beijing during the forum. [China Daily]


The Forum on China-Africa Co-operation (FOCAC) has become an important platform for dialogue between China and Africa and an effective mechanism for pragmatic collaboration, President Hu Jintao said Wednesday.

Hu made the remarks when meeting some leaders of African countries who arrived in the capital to attend the Beijing Summit of the FOCAC, which opens on Saturday.

"The Beijing Summit will be a great undertaking in the history of China-Africa relations," Hu said.
Special coverage:
China-Africa Summit

Related readings:
250,000 drivers promise "no car day" during forum
Summit opportune for Sino-African cooperation
Beijing prepares for African arrivals
Ambassadors highlight co-operation
Government cars make way for Africa summit
During the summit, with the theme of friendship, peace, co-operation and development, "we will look back at the development of the China-Africa friendship and devise a blueprint for future partnership," he said.

"The summit is surely a milestone in the history of China-Africa relations and will bring about broader prospects for the future development."

Heads of state or government and high-ranking officials from 48 countries are expected to participate in the summit, the largest ever staged in the country since the founding of New China in 1949.

A series of deals on co-operation between China and Liberia and Guinea-Bissau were signed yesterday following separate talks Hu held with the leaders of the two countries.

Joao Bernardo Vieira, president of Guinea-Bissau, and Ellen Johnson-Sirleaf, president of Liberia, are in Beijing on state visits as well as to attend the upcoming summit.

According to the documents, China will increase economic and technical co-operation with Guinea-Bissau, the first country to collaborate with China on deep-sea fishing.

Meanwhile, China will offer assistance to Liberia in the maintenance and expansion of a national broadcasting station and school buildings. The two sides also agreed to co-operate in mining, oil and gas exploration.

During talks with Vieira, Hu said China hoped the two nations strengthen co-operation under the FOCAC framework, and enhance consultations in international affairs.

This is "in an effort to jointly safeguard the legal interests of developing countries and to make contributions to the construction of a harmonious world," Hu said.

Vieira expressed appreciation to China for providing his country with assistance.

Just before talks with Johnson-Sirleaf, Hu extended birthday wishes to the president who celebrated her 68th birthday four days ago.

Johnson-Sirleaf arrived in Beijing on Saturday, the first African leader to arrive for the Beijing Summit.

Hu suggested the two nations maintain high-level exchanges to enhance political trust and increase co-operation in trade, infrastructure, education and health.

Johnson-Sirleaf said Liberia would forge a strategic partnership with China and boost co-operation in the trade, investment, infrastructure construction, education and public health fields.

She reiterated that the Liberian Government pursues the one-China policy, which will not be changed.

Hu yesterday also met Gabonese President El Hadj Omar Bongo Ondimba, Alpha Oumar Konar, chairman of the Commission of the African Union, and Ahmed Abdallah Mohamed Sambi, president of the Union of Comoros.



| | | |
| --- | --- | --- |
| 1 | 2 | |