NAIROBI: Chinese ambassadors to Cote d'Ivoire, Namibia and South Africa have reiterated China's friendship with Africa. They stressed the necessity of developing Sino-African co-operative projects for mutual benefit and common development.
Ma Zhixue, ambassador to Cote d'Ivoire, said China and Africa are complementary in terms of economic development, as China encourages its enterprises to explore business opportunities in Africa and seek win-win co-operation with African partners with Chinese capital, technology and equipment.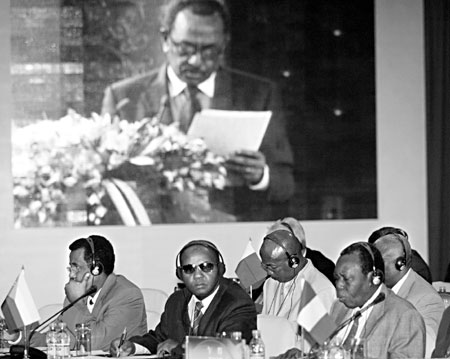 Delegates listen yesterday as Haile-Kiros Gessesse, Ethiopia's special envoy to the Forum on China-Africa Co-operation, speaks at the opening ceremony of the Senior Officials Meeting, which is being held in Beijing. Gessesse said that after more than 50 years of history, Sino-African relations have stood the test of time, and today they are focused on the future. The basis for relations is sincere friendship, equality, solidarity, co-operation and common development. [China Daily]

The ambassador suggested that the co-operative projects meet African demand and be suitable for African conditions so that they can bring benefits to both sides. He said these projects should be built on common development so that they can sustain themselves like "rechargeable batteries."

He said that co-operators should orient to the needs of the market and formulate long-term strategies to make their co-operation sustainable, stressing that "common devotion, common management and common interest" are crucial for success.

Ambassador to the southern African nation of Namibia, Liang Yinzhu, said that China has always regarded Namibia as one of its most reliable friends. The traditional Sino-Namibian friendship and co-operation have become continuously closer through helping and learning from each other in national construction, and rendering mutual understanding and support on international issues.

He stressed that the high-level exchange of visits between the two countries last year and this year have added new impetus to bilateral pragmatic co-operation in various fields. Sino-Namibian trade amounted to US$140 million last year and the areas of bilateral economic co-operation have extended into railway building and telecommunications.

Liang expressed appreciation for Namibia's stand of backing China's peaceful reunification and its support for China on many international issues.

Ambassador to South Africa Liu Guijin echoed the other two ambassadors' view that China and Africa are friends, saying that China will take more concrete action to let more Africans feel China's sincerity.

"China and African countries are both developing countries challenged by the task of development and sharing identical or similar stands on major international issues and are economically complementary, thus they are significant strategic partners," said the ambassador.

He said the Chinese Government will announce some more measures favourable for Africa's development during the upcoming Beijing Summit of the Forum on China-Africa Co-operation scheduled for November 4-5.

Liu stressed that relations between China and African countries are transparent, open and non-exclusive.

"China welcomes trilateral or multilateral co-operation in Africa," he said.