Taiwan branding stymied by past success
Updated: 2013-11-05 10:10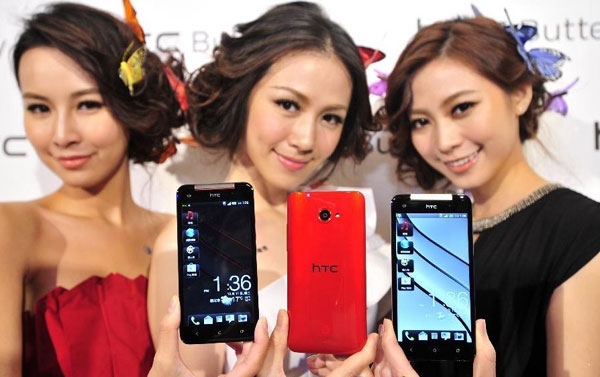 Models present new smartphone "HTC Butterfly" by Taiwan smartphone maker HTC Corp in Taipei, Taiwan, Dec 11, 2012. [Photo/Xinhua]
Taiwan's success at designing and mass producing must-have gadgets for branded rivals such as Apple Inc makes it tougher for its companies trying to launch aspirational consumer brands of their own.
Ben Ho, marketing chief at smartphone maker HTC Corp, says his firm's shift from original design manufacturer to branded company has been a challenge for marketing and messaging.
"For an ODM player, things are much simpler - you ship to the operators and your job's done," he said in an interview. "As a company, we decided to become a brand ... it opened up a whole new area of engagement."
With ruthless efficiency and technical prowess, most large Taiwan manufacturers were founded a generation ago by engineers or business people for whom cost control was king. Products were faster, lighter, more compact and feature-packed, but lacked a coherent brand image to attract consumer loyalty - even after these ODMs decided to become brands.
Now that the electronics and technology goods that Taiwan manufactures have become increasingly commoditized, the country's lack of an innovative breakthrough is more apparent.
Not so long ago, the likes of Acer Inc and Asustek Computer Inc looked set to lead Taiwan's economy down a path similar to Japan and South Korea, moving from assemblers of gear exported westwards to globally admired brand champions.
In 2010, Acer was the world's second-largest notebook manufacturer. In 2011, HTC controlled a fifth of the United States market for smartphones - second only to Apple. Today, both are fending off talk of buyouts as sales have slumped and their stock prices have followed.
Acer is expected to announce later on Tuesday a third-quarter net loss of around T$113 million ($3.84 million) - according to Thomson Reuters SmartEstimates, which places greater emphasis on top-rated analysts' forecasts - versus a year-earlier T$68 million profit. Acer shares closed on Monday at their lowest in 12 years.
Last month, HTC posted its first ever quarterly net loss and could lose more than T$1.62 billion this year, according to SmartEstimates. Shares in HTC, which is due to give earnings guidance on a call on Tuesday, have climbed by more than a quarter from their 2013 low 9 weeks ago, but the stock has still lost half its market value this year.
Lacking emotion
Many view these companies' past triumphs as incremental at best, and coincidental at worst.
The popularity of smaller, web-friendly notebooks in the late-2000s, pioneered by Asus, was a stepping stone to the tablet wave later unleashed by Apple. Similarly, HTC's early dominance in the market for Android, Google's mobile operating system, is viewed as mere good timing: it was first to offer a genuine iPhone alternative.
According to Mark Stocker, a Taipei-based branding consultant who has worked alongside local firms for two decades, Taiwan's economic miracle was built on a simple formula of "finding a product, making it cheaper, getting those orders - then finding the next product and doing it all over again."
Stocker and others believe this process has become dogma to Taiwan technology firms - so much so that they fail to understand that customers now want more than just low prices and a long list of features.
"Taiwan bosses don't really have an idea how to make a more appealing product based on emotional value," said Albert Chen, a former industrial designer for Acer and a design consultant for HTC. He compared Taiwan's product creation process to Samsung's, where consumer lifestyle is a key consideration.