Scientists reach record speed on Internet using light waves
Updated: 2013-10-18 08:10
Surfing the Internet using light waves as easily as with Wi-Fi is not just a dream any longer.
A group of Chinese scientists recently succeeded in accelerating the speed of Internet access through light waves to a record high in a lab experiment.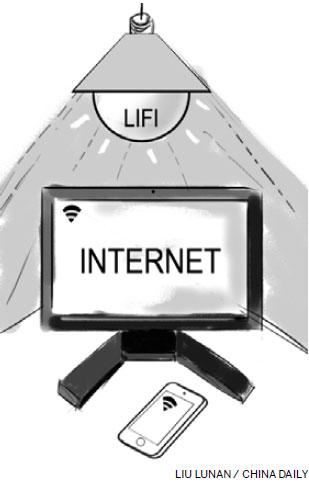 According to the School of Information Science and Technology at Fudan University, researchers modulated Internet signals to a 1watt LED lamp. Under the light, four computers were able to access the Internet.
The offline maximum speed reached 3.7 Gb per second which, scientists said, is the world's fastest Internet access speed by LED light, while the average speed of a real-time system is up to 150 Mb/s.
"A video program was successfully delivered between two computers at this speed in our experiment," said Chi Nan, a professor from the University, who led the research.
The LED-based alternative to Wi-Fi, dubbed Li-Fi, or Light Fidelity, refers to a type of visible light communication technology that delivers a networked, mobile, high-speed communication solution in a similar manner to Wi-Fi.
As with radio waves, light is also a type of electromagnetic wave. The basic rule for sending and receiving Internet signals via light waves is similar to that for radio waves. Light-emitting diodes are switched on and off much faster than the eye can detect, which makes the light source appear to be continuous.
By adding a microchip to an LED bulb to control on and off switching, the data will flow as binary code: an on LED is a logical "1" while when off it is a logical "0".
"Wireless communication is mainly transmitted through traditional radio wave signals. Currently, the demand for wireless connection to the Internet is growing very fast," said Chi. "LED-based wireless communication exploits a new channel transmitting data."
China is working on replacing incandescent lamps with LED bulbs, which can be turned into Internet transmitters, she said.