Sany stranded overseas
Updated: 2013-08-12 14:44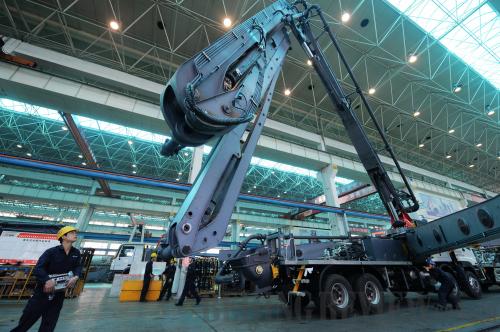 Sany workers debug a giant machine in a Hunan-based plant in central China [Photo/bjreview.com.cn]
Just as Sany Heavy Industry, the largest machinery manufacturer in China, is strained by its lawsuit against US President Barack Obama and the Committee on Foreign Investment in the United States (CFIUS), things seem to be getting worse.
During the Fifth Round of the China- US Strategic and Economic Dialogue, held from July 10-11 in Washington, the United States International Trade Commission (ITC) announced a Section 337 investigation into Sany and its American branch for patent infringement.
The investigation was based on a complaint filed by Manitowoc Cranes that certain crawler cranes and components manufactured by Sany and its US branch had infringed on two US patents.
Aside from that, Sany was also accused of misappropriating trade secrets. John Lanning, who once served as an engineer in Manitowoc Cranes and switched to Sany's American branch, was suspected of leaking trade secrets to his new employer.
Xiong Qi, Sany media spokesperson, said that Sany America's SCC8500 crawler crane was completely designed by its own research and development staff, and the accusation by Manitowoc Cranes was totally groundless. Zhu Wenkui, Vice President of Sany, believed that it was Sany's ambitious overseas expansion that ignited the United States to take protectionist measures.