Investing abroad not easy: Experts
Updated: 2013-07-16 07:13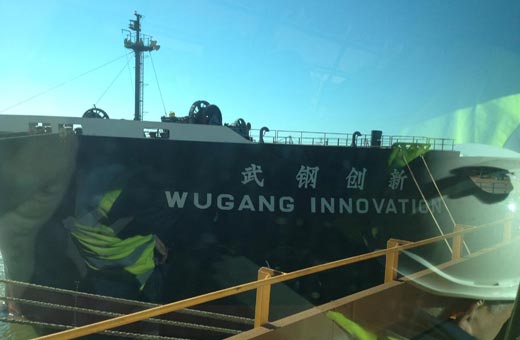 A ship from the Wuhan Iron and Steel Group Co waits for iron ore load.[Du Juan / chinadaily.com.cn] 

As Chinese steel firms step up their efforts to explore resources abroad, there have been ups and downs in their gains because of inexperienced risk management, reports Du Juan in Perth, Australia
Facing increasing domestic demand for iron ore with high import prices in recent years, Chinese steel companies have been trying to find an effective investment model to make acquisitions cheaper and more predictable.
They have made moves into Australia, Brazil and Africa, where the resource is found in abundance but some projects have had to be suspended because of various political, financial or environmental reasons while others have been relatively successful.
Industry insiders and experts said it is currently better for Chinese steel companies to find a local partner familiar with the business in the region than invest huge amounts of money buying up a site entirely on its own to exploit.
"It is all about balance," said Sebastian Lewis, editorial director of Platts China, the commodities information provider.
If a Chinese steel company takes a minority stake in a foreign mining company, it can help secure the iron ore supply although the Chinese entity would not be involved in the management, he said.
"In the case of direct investment, you (Chinese steel companies) own more of the project, which may bring you higher returns during the operation, but it also brings risks because the construction period can be very challenging in terms of managing the project outside your own country and constructing the infrastructure," Lewis added.
"Neither way is necessarily good or bad. It depends on your tolerance of risk."
China's largest and most ambitious overseas investment in the mining industry is the Sino Iron project wholly owned by CITIC Pacific Ltd, a Hong Kong-listed incorporated company.
CITIC Pacific secured the rights to 2 billion metric tons of magnetite resources with an expected mine life of 25 years in 2006. Last year, the company announced that it had acquired a further 1 billion tons of magnetite ore.
The project was expected to have an investment scale of $4.2 billion and was put into operation in the first half of 2009. However, because of rising costs and various misfortunes, the commissioning date has been delayed several times.
According to a source within the company, the total investment will increase to about $8 billion.
However, the source said the operation of the project is not as bad as some say and the second and third phrases of the project will be completed on schedule.
Although many Chinese companies have been facing challenges, including financial pressure, unfamiliar laws and regulations, environmental and labor issues, they are also making progress and gaining experiences.
"It is difficult for any company to go overseas at the beginning," said Lewis. "If they just want to secure raw material supplies, it is probably better just to buy shares in these iron ore companies."