Ultra-car legend Lamborghini on the circuit with race series
Updated: 2013-11-18 07:41
Though renowned as an ultra-sports car, Lamborghini was not born for racing.
"When our founder Ferrucio Lamborghini started the company 50 years ago, he was devoted to producing the fastest car for the street, not the race track," said Stephan Winkelmann, president and CEO of Automobili Lamborghini.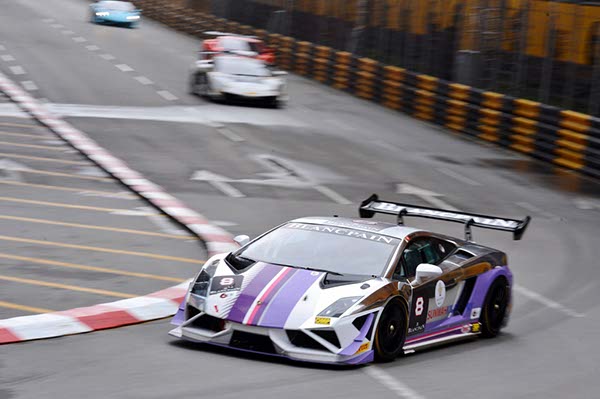 Lamborghini's champion car on the racetrack in Macao.
But today the Italian carmaker puts in heavy effort to host racing events to strengthen its brand and help develop the sports car culture in China.
"In recent years, we realized that racing should be important for Lamborghini and is a good fit for us. If you compare our street cars with race cars, you will find that they are so similar," said Winkelmann.
Lamborghini began to cooperate with Swiss luxury watchmaker Blancpain five years ago to host Lamborghini Blancpain Super Trofeo races in Europe, then brought it to Asia two years ago.
This season, it kicked off the new series in North America.
The race moved to Macao for the first time at the close of the 2013 season as it was held along with the 60th Macao Grand Prix.
On the world-famous Guia circuit, drivers enjoyed the ultimate test. Known for its challenging tight corners and demanding surfaces, the racetrack presented an unchartered territory not only for many drivers, but also for the Gallardo Super Trofeo 2013.
"Amid the ongoing celebrations of our 50th anniversary this year, 2013 also represents Lamborghini's greatest-ever year of commitment to motorsport," said Winkelmann.
"The passion and devotion from drivers just goes to show how far we can go."
Over the past season, he said the Super Trofeo Asia Series has visited the Chinese mainland and Macao, Malaysia, South Korea and Japan, attracting drivers, their families and friends to six exhilarating races in Asia.
He said that breakthroughs this season included the first-ever contestants from India, Sri Lanka and South Korea, and the first-ever female participants.