Beijing seriously considering implementing congestion tolls by 2015
Updated: 2013-11-11 08:10
In a bid to ease traffic jams and cut air pollution, Beijing is likely to start charging congestion fees on motorists in the downtown area in 2015 at the earliest.
The proposal is included in a task list of Beijing's five-year action plan on controlling vehicle pollution.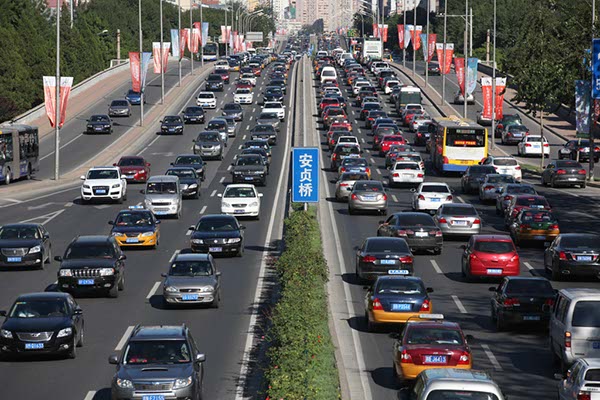 Cars crowd the freeways during rush hour in Beijing. The city is likely to charge congestion fees on drivers to curb pollution by 2015. [Wang Jing / China Daily]
Issued last week, the document contains a suite of measures to curb car emissions, such as a reduction of the number of license plates issued, elimination of high-emission vehicles, increase of parking fees and construction of new subways.
Though it's not the first time that the charge has been brought onto the agenda of local government, and the timetable for real implementation has not been finalized, the problem has still sparked heated debate among the public.
Some say that a fee aimed at combating congestion is acceptable, while some believe that it will fail to solve the traffic problem while only placing a greater burden on ordinary residents.
"When resources are in short supply, it is reasonable to allocate them using price mechanisms," said Iris Zhao, an editor and also a car owner.
"As more people buy cars, congestion charges may become the only way to ease traffic jam at a certain point of time (when the number of vehicles are too many)," she said.
"Perhaps only by building good public transportation and increasing the cost for driving private car can big cities like Beijing and Shanghai maintain the traffic order in certain areas," she said.
Wu Qiquan, a small business owner in Beijing, was cautious in giving his opinion.
"Because the government hasn't introduced a specific plan on how much money it will charge and how the rule will be executed, it's hard to say whether it's good or not."
But he added that he could accept the charge if the final implementation plan proves to be "fair and reasonable."
Although he has a car, Wu often travels by subway. Yet he often rides line 10, which broke down five times last month and he can't help complaining about it.
"In addition to increasing the cost of car usage, the government should really improve the current public transportation, making it more comfortable and convenient. Otherwise people will eventually turn to private cars if they can afford the costs," he said.