Volkswagen AG Q1 profit declines
Updated: 2013-04-25 09:52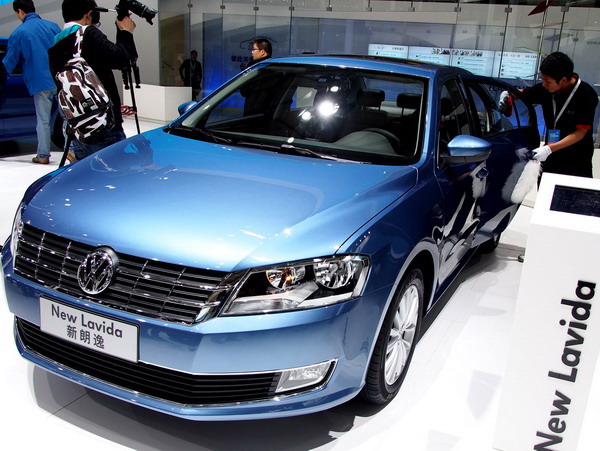 A new Volkswagen car is seen at the Shanghai auto show, April 21, 2013. The German auto manufacturer announced on Wednesday that its profit in the first quarter of 2013 shrank due to weak demands from European market. [Photo / Xinhua] 
BERLIN - German auto manufacturer Volkswagen AG announced on Wednesday that its profit in the first quarter of 2013 shrank due to weak demands from European market.
Compared with the same period of last year, its earning before interest and tax in the first quarter of 2013 fell by 26 percent to 2.3 billion euros ($3 billion). Net profit saw an even larger drop of 38.2 percent to 1.95 billion euros.
Sales revenue declined by 1.6 percent year-on-year to 46.6 billion euros, negatively affected by declining European markets, according to the Wolfsburg-based company.
"As expected, business in the first quarter was dominated by the difficult economic environment. The markets were sluggish, especially in Europe, and not least in Germany," said Martin Winterkorn, chairman of Volkswagen Mangement Board.
The company said it was confident in its performance for the rest of this year. However, it was "not completely immune to the intense competition and the impact this has on business."
Volkswagen expected its sales revenue in 2013 to exceed the prior year figure, while its goal for operating profit was just to match the prior year level, giving the ongoing uncertainty in the economic environment.
According to European Automobile Manufactures' Association, European demand for new passenger cars in March was on the decline for the 18th consecutive month, totaling 1,307,107 units. Over the first quarter of 2013, new car registrations amounted to 2,989,486 units, or 9.8 percent less than in the first three months of 2012.
Earlier on Wednesday, another German auto manufacture Daimler AG announced that its net profit amounted to 564 million euros, dropping by 60 percent on the first quarter of 2012. The reason, according to the Mercedes-Benz maker, was the worse-than-expected development of many markets, "especially in Western Europe."
Both companies put their hope in other markets, such as China and the United States. Thanks to strong growth in China, Volkswagen's first-quarter auto delivery to customers increased by 4.8 percent year-on-year to 2.3 million vehicles.
According to Daimler's estimates, worldwide demand for cars should grow in the range of 2 percent to 4 percent this year, driven primarily by the ongoing strong growth in demand in the US and the further expanding Chinese market.
"However, as a result of the continuing economic weakness, a decline is again expected in the Western European market. Demand will thus continue to move around a 20-year low," the company warned in a statement.
Volkswagen group car sales fall flat in March
Volkswagen's all-new GTI at New York auto show
Volkswagen eyes China's low-end auto market