Magna lifts outlook, dividend after topping forecasts
Updated: 2013-03-04 17:34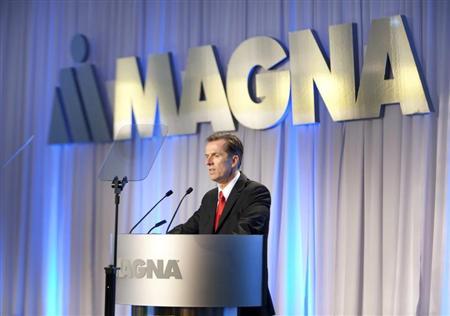 Magna International Inc CEO Donald Walker speaks to shareholders at the company's annual general meeting in Toronto May 10, 2012. [Photo / Agencies] 
Canadian auto parts maker Magna International Inc raised its full-year sales forecast on March 1 and sweetened its quarterly dividend after a fourth-quarter performance that beat expectations.
Shares of Magna, one of the world's largest parts makers, rose after it said its North American operations helped drive total sales last year to a record high. That mirrored a robust, double-digit recovery for vehicle sales in the United States.
The Aurora, Ontario-based company, which is sitting on about $1 billion in cash, also raised its quarterly dividend by 16 percent, to a record 32 cents a share.
"When you put all that together ... the stock is reacting positively on a pretty choppy day in the market," said Todd Coupland, an analyst at CIBC.
Magna shares rose as much as 5.7 percent on Friday. The stock has gained roughly 28 percent in the past six months.
The fortunes of Canadian auto parts makers are tightly tied to the Detroit Three and the health of the US vehicle market, and the parts makers have benefited from the steady recovery of Ford Motor Co, General Motors Co and Fiat SpA's Chrysler from their recession-induced slump.
Coupland said the outlook is positive, particularly in light of US figures released on Friday that showed the auto industry was on track for a fourth straight month of strong sales.
"People are saying the strength that we saw in 2012 can't continue, yet it has so far in 2013 and the reason is you're getting a kicker, or a tailwind from better (US) housing starts," he said.
Words of caution
Some analysts were less bullish. David Tyerman, an analyst at Canaccord Genuity, cautioned that while US auto sales are forecast to outpace the growth of US economy this year, they are expected to fall back into single digits.
"Based on the guidance they provided so far and what's going on in the industry as a whole, we're going to see a slowing in the results for (Magna) in 2013 and it will probably continue into 2014," Tyerman said. "You can only grow double digits so long in an industry that isn't growing double digits normally."
Even so, Magna bumped up its 2013 sales forecast to a range of $32 billion to $33.4 billion from a range of $31.3 billion to $32.7 billion. Last year, the company posted sales of $30.84 billion, an increase of 7 percent year over year.