BMW steers artists to a better future
Updated: 2012-02-06 07:59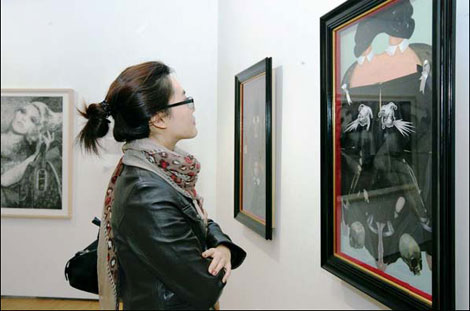 A visitor looking at a painting at an art exhibition supported by BMW AG for China's young contemporary artists. The German automaker kicked off a three-year project in late 2010 to discover and sponsor outstanding young artists in China. Provided to China Daily
Automaker sponsors two young painters in ongoing cultural support program
BEIJING - German luxury car brand BMW AG believes that supporting up-and-coming artists is the best contribution it can make to China's emerging contemporary art industry.
"Famous artists are concerned about their reputations but for young artists, financial support and reputation are equally important," said Zhou Chunya, an avant garde Chinese contemporary artist. "I appreciate BMW's decision to help China's struggling young artists."
The German automaker in November 2010 officially launched its Supporting Program for Contemporary Young Artists, which is designed to discover and sponsor outstanding young artists in China, encourage them to persist in their art dreams and inject new blood into the development of contemporary art in China.
Following recommendations and tough selection procedures by established artists, art organizations and senior exhibitors, Gao Bo and Yang Xun became the first young artists to win the prize and support under the three-year program. Their outstanding works and widely recognized artistic potential were cited.
"BMW provided us with one year of assistance with our artistic work through providing funds, sponsoring personal art exhibitions and publishing personal albums," said Gao. "My personal exhibition, which concluded the previous years of my art career, gives me an overall review of my achievements as well confidence to go further."
Yang said that he was inspired by BMW's sponsorship. "It changed my work, as BMW's design, brand and culture all have rich artistic content. Through this form of communication, I think we and BMW can inspire and promote each other to enable us to create more beautiful works," said Yang.
"Commercial sponsorship connects art with society and helps build a healthy environment and development for contemporary art and artists in China," said Chinese contemporary artist Zhou, who nominated young woodblock engraving artist Kang Jianfei for the second year of the program at the end of 2011.
"It's not good for a new graduate to be signed up with a gallery, entering into a commercial career. It's better to provide them with financial support to encourage them to focus on creating works, not survival," Zhou said.
"I hope that commercial sponsorship for the arts can go further and extend its reach to more sectors and in more ways so that contemporary art can be truly deep-rooted in the public's mind in China," he added.
Besides its young artist support program, BMW also has partnered with L'OFFICIEL Art magazine to launch the annual ArtPower 100 Award for two consecutive years. The German automaker sponsored the event, which acknowledges art figures who have exerted significant influence upon China's contemporary art and also made a great contribution to the development of future art.
The award highlighted a total of 100 artists, managers of galleries, art museums and auction firms, as well as art organizations, art sponsors and brokers.
They stood out because they made outstanding contributions to the prosperity of the contemporary art market and the development of academic research and broke industrial barriers to leverage a comprehensive influence on society. They also exerted a major influence on bringing changes to China's contemporary art landscape during the year, according to organizers.
BMW has over the years fully supported projects that promote culture involving a variety of areas such as music, painting, dancing, sculpture and film. The company established the BMW Warm-Heart Fund in June 2008 to provide all BMW customers, dealers, associates and friends of the BMW brand with a platform to pool their collective philanthropy and to continuously provide material donations and spiritual care to communities.
To actively promote high and elegant art, BMW has sponsored the Liaoning Ballet Troupe's BMW Culture Night for five consecutive years and China's Central Conservatory of Music's participation in the International Music Festival in Germany for two consecutive years.
In addition to its promotion of art and other culture, BMW's corporate social responsibility activities include areas such as education support, environmental protection and social care.
China Daily
(China Daily 02/06/2012 page22)