COMAC, Boeing cooperate to recycle oil
By Wang Wen (chinadaily.com.cn)
2012-08-16 21:03
| | |
| --- | --- |
| | |
Commercial Aircraft Corp of China and Boeing Co opened the Boeing-COMAC Aviation Energy Conservation and Emission Reduction Technology Center on Aug 16.
The center's first research project is to try to treat and clean used cooking oil, often described in China as gutter oil, to use as jet fuel.
Boeing is also researching other biofuel materials, such as jatropha oil, with other institutes in China.
"Different regions have different materials for biofuel and we are looking for the most suitable one for China," said Marc Allen, president of Boeing China.
Due to their high cost, all types of biofuel have high prices now and it will take possibly five to 10 years to promote biofuel usage, he added.
Both COMAC and Boeing will invest capital and human resources into the center, which will expand knowledge in areas such as sustainable aviation biofuel and air traffic management.
"With the joint efforts of COMAC and Boeing, the center will make continuous progress and breakthroughs not only in the area of aviation biofuel development, but also other technologies of carbon emission reduction," said Qin Fuguang, president of COMAC's Beijing Aeronautical Science and Technology Research Institute, where the center is located.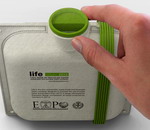 An Italian designer, Andrea Ponti, designed a recycled paper-made water container for the Milano Expo 2015, according to yankodesign.com.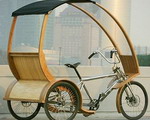 The Bamboo treecycle developed by MGT Engineering Ltd is on dispay at the 21th China Int'l Bicycle and Motor Fair.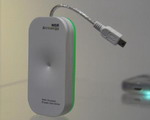 A US electronics company invented a charger that draws its power from Wifi signals.
China's most influential international exhibition of green industries is held at the China Import and Export Fair from Friday to Sunday in Guangzhou, Guangdong province.
Twenty-one private enterprises from China will join the China Going Green Dialogues - part of the 2012 UN Conference on Sustainable Development, known as Rio+20 - in June, in Rio de Janeiro, Brazil.
Heilongjiang Forest Ecological Tourism Festival, an event aiming to promote healthy and environmentally friendly tourism, will be held in Yichun, Heilongjiang province, on July 13.