Traditional retail battles websites
Updated: 2013-11-12 01:40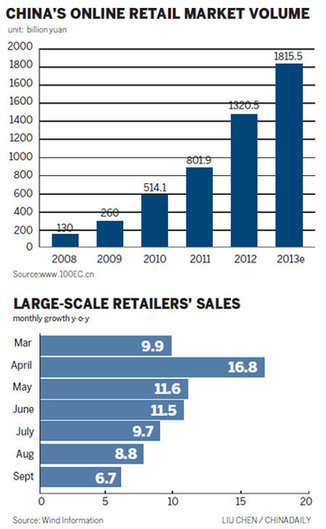 Mao Ajing, analyst from Analysys International, said Tmall's 19.1 billion yuan sales on Nov 11 last year greatly affected retail stores and department stores, pushing them to act.
Guo Geping, chairwoman of the China Chain Store and Franchise Association, said that this year, growth in the retail industry has suffered a continued slowdown, with only a 7.6 percent increase in sales among Chinese department stores and 6.5 percent among specialized retailers.
The association's report indicated that conflicts between online and offline distribution channels, logistics costs for delivery and lack of Internet technology have created challenges for traditional retailers that are launching services online.
To turn the situation around, Wangfujing Department Store hosted a three-day shopping carnival Nov 8-10.
And Wal-Mart Stores Inc has offered sales on electronic appliances in many regions, including Guangdong province and Liaoning province, with major discounts to attract more customers.
Suning Commerce Group Co, which has its own e-commerce platform, Suning.com, launched a strategy in June offering the same price for items purchased online or in physical stores.
Some analysts said traditional stores' efforts online are mainly to divest inventory or special items but that their main sales still come from physical stores.
Retail analyst Mo Daiqing said traditional stores' online promotion will earn attention from Internet shoppers while the offline stores serve as a channel for customers to try out and experience the items.
Easyhome, a moderately upscale home furniture and decoration department store, launched its own website Nov 5, offering uniform prices between products purchased online or in physical stores. Customers shopping either way enjoy a 10 percent discount.
Read more:
Online shopping gala sets records