Traditional retail battles websites
Updated: 2013-11-12 01:40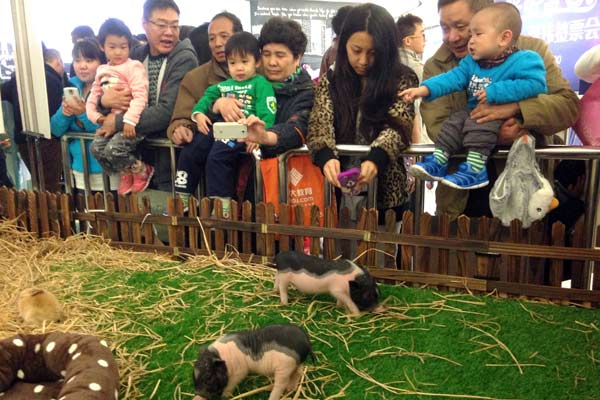 Facing growing impacts from online shopping, Raffles City shopping mall in Beijing has set up a small garden with animals and plants to attract consumers.[Zou Hong/China Daily]
Traditional retailers no longer are content to sit and watch potential customers getting lured away by online rivals.
The huge e-commerce sales revenue tallied on Nov 11 last year served as a wake-up call for traditional brick-and-mortar retailers, spurring them to launch preemptive strikes days in advance.
Nationwide, physical stores, including home improvement retailers, department stores and supermarkets, are now taking part in online promotions.
But dozens of home decoration and furniture department stores boycotted retail site Tmall's promotional activities on Nov 11.
Che Jianxin, chairman of Macalline Co Ltd, a leading decoration and furniture chain in China, reportedly initiated the boycott, forbidding online retailers' efforts from transforming the traditional stores into offline promotional venues.
Tmall reportedly suspended previous agreements offering online services to the offline home decoration unit.
In 2012, online retail deals reached 1.32 trillion yuan ($216 billion), up 64.7 percent, according to China e-Business Research Center. That figure is expected to reach 1.82 trillion yuan, a growth of 40 percent, in 2013.
It is hard for physical stores to catch up to such rapid increases in revenue. Wangfujing Department Store Co Ltd's 2012 sales were 18.36 billion yuan, topping those of the e-commerce unit of Suning Commerce Group Co, the country's largest electronics retailer.
But by the third quarter of 2013, Wangfujing's revenue totaled only 14.53 billion yuan, while Suning.com's rose to 16.17 billion yuan.
Read more: